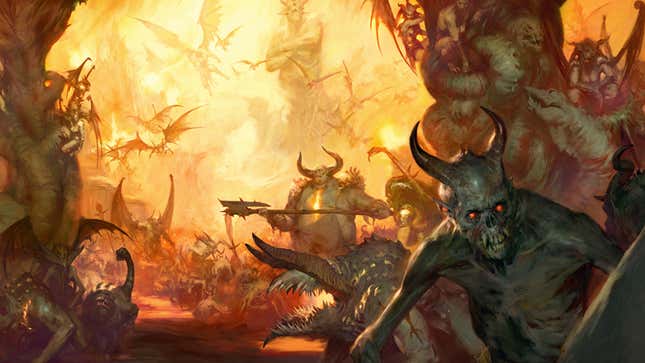 Blizzard announced that Diablo IV's super-popular beta will get one final playable weekend from May 12 through May 14, letting you take another trip to Hell and Sanctuary before the action-RPG's imminent June 6 release date.
Nintendo Showcase Standout Gunbrella Has The Best New Video Game Name Of 2022
Read More: Diablo IV Is The Perfect Head Empty, Kill Shit Game
The fourth mainline entry in the long-running isometric loot-grinding RPG, Diablo IV has had a couple of beta weekends already. While the initial one was only available for folks who preordered the game (or bought a chicken sandwich), Blizzard later offered the beta for all players to check out. Both playable weekends let you run through the prologue and first act, as well as level up any of the character classes to at least 20 for various in-game rewards that carried over to the main game, such as an adorable, sleepy wolf pup. That last open beta, which ran from March 24-26, was incredibly successful for Blizzard, with players putting almost 62 million hours into the game. While a large majority got wrecked by the dreaded Butcher, that death hasn't stopped folks from wanting more. And now, that "more" is coming in just a few weeks.
Blizzard wants you to slam its servers this May
From May 12 through May 14, all PC, PlayStation, and Xbox players will get the opportunity to jump into what will be Diablo IV's final beta. Blizzard wants to test the servers' stability in preparation for the game's June launch. As in the previous betas, all five character classes will be available to check out and the prologue, alongside the game's first act, will be playable.
In a blog post announcing the news, Blizzard specified that a few differences will separate this final beta from the prior two. Most notably, all the bug fixes and game updates outlined on April 14 will be in effect. (RIP, Necromancers, myself included.) Legendary drop rates have been altered to reflect how they'll appear in the full game, the specifics of which haven't been disclosed yet. And level 20 appears to be the cap here instead of level 25 like in previous betas. Otherwise, what you've played before is what you'll play again. And because this is still a beta test, none of the progress you make in what Blizzard has called Diablo IV's "Server Slam" will carry over to the full game. What a shame.
What's not a shame are the rewards you can get for playing this final beta. Aside from the titles you can earn to flaunt in-game, players who reach level 20 will also get that adorable wolf pup, and anyone who kills Ashava the Pestilent will get the Cry of Ashava mount trophy to trot around the world of Sanctuary.
Read More: Diablo IV's Beta Has Us Kinda Obsessed With Hell
This will likely be the last time we'll get Diablo IV in our hands before the game drops in a little under two months. It's a bummer progress that made won't carry over to the full game, but hey, what can you do? If you're ready for one last fling with Mommy Succubi's minions this Mother's Day, you can download the Server Slam on May 10 by searching for it in your digital store of choice.