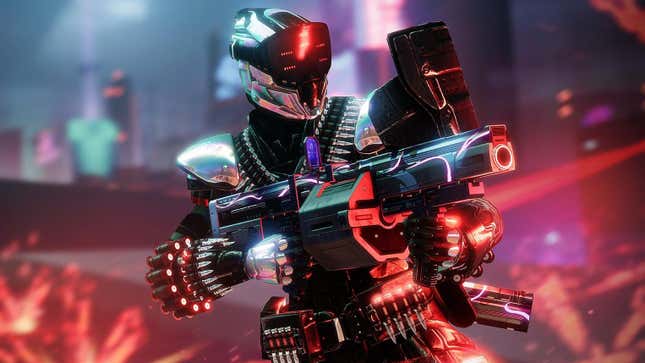 Destiny 2: Lightfall is just a few weeks away and Bungie finally pulled back the curtain on what players can expect from the expansion's growing Exotic arsenal. A new trailer revealed three pieces of armor, three weapons, and a new catalyst for the Deluxe Edition exclusive, Quicksilver Storm.
A Foe From The Next Team Ninja Game Is Giving Me Sekiro PTSD
Out February 28, Lightfall will take players to the neon-lit city Neomuna on Neptune where they'll face down an assault by newly minted Witness disciple Callus and his Shadow Legion army. In addition to a new subclass power called Strand, a new set of Exotics will also give Guardians a leg up in the cyberpunk-themed showdown.
Bungie gave us our first look at what they are and how they'll work in Destiny 2's latest trailer:
Here are the ones we know about so far:
Final Warning (Strand sidearm): has "charged tracking rounds" that automatically target nearby enemies
Deterministic Chaos (Void machine gun): uses "rhythmic debuffs" to weaken enemies on the 4th shot and grant volatile rounds on the 16th shot.
Winterbite (Stasis glaive): "freezes enemies with frost orbs" that appear to be able to spawn both turrets and bombs.
Quicksilver Storm (kinetic auto rifle): catalyst makes grenades create Strand "tangles on kills" and also seems to add Strand elemental affinity to normal shots.
Abeyant Leap (Titan legs): Strand "barricade spawns additional lashes" that tie up enemies.
Swarmers (Warlock legs): "destroying tangles spawns threadlings" that seem to target enemies like little magic spiders.
Cyrtararchne's Façade (Hunter helmet): "grapple gives woven mail", a defensive buff that grants flinch resistance.
If that all sounds a little weird, it's because each Exotic outside of the Stasis glaive and Void machine gun is based around the Strand, the new subclass arriving in Lightfall. If you caught any of the previous trailers, this is the glowy green power that lets Guardians effectively grapple around new environments like Master Chief's latest outing in Halo Infinite. It's basically space spiderwebs and it looks like it will open up a ton of interesting combat possibilities.
Counting Quicksilver Storm, the Exotic which has already gone live for anyone who preordered the $100 Deluxe Edition of Lightfall, that's seven total Exotics shown off in the trailer, a fair few less than last year's The Witch Queen which included 14. Then again, that expansion didn't have a whole new subclass. Hopefully Bungie has a few more hiding up its sleeve, either tucked away in secret questlines farther down the road or waiting to be shown off separately as part of the upcoming Season 20 reveal.