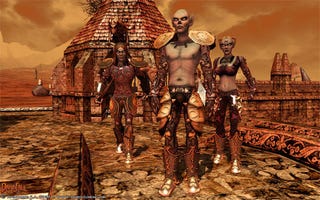 After months spent using Europe as one gigantic beta test, Adventurine's massively-multiplayer online game Darkfall Online has finally launched its first North American server.
Darkfall Online is an online roleplaying game that places an emphasis on player freedom and real-time action in an expansive fantasy world. The European servers opened in February, and despite some initial bugs it seems to have done well for itself. The North American version went live yesterday, giving players on this side of the pond a chance to experience what they've been missing.
In order to play Darkfall Online, one must head to the North American website and purchase it for $50. The price includes a free 30 days, after which the subscription rate is $14.99 monthly, which might just be a bit too much for players to pay for a new game from a relatively unknown company not based on existing intellectual property. What do you folks think?