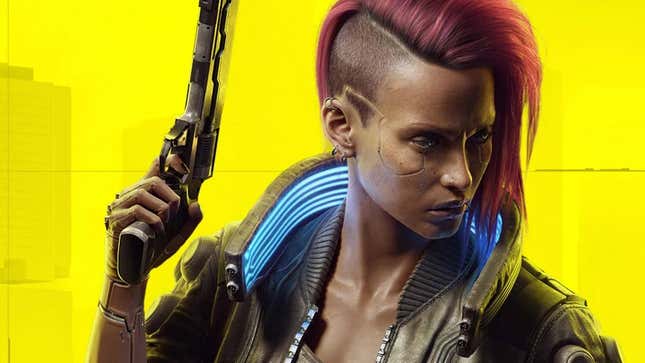 2022 was apparently a really good year for Cyberpunk 2077 and the company that made it. After one of the most disastrous blockbuster launches in recent history, the open-world sci-fi RPG went on to make even more money last year than the one previous, signaling a staggering turnaround for a franchise that initially seemed dead on arrival. And the upcoming DLC Phantom Liberty isn't even out yet.
This Akira-Like Boss Rush's Grip-And-Rip Mechanic Has Me Hooked
Developer CD Projekt Red revealed its full 2022 earnings report earlier this week (via IGN), which showed total revenue for Cyberpunk 2077 actually grew 18 percent year-over-year. Usually that number keeps going down after release, but the unusual turnaround ended up helping make 2022 the company's second-best year on record when it came to sales revenue.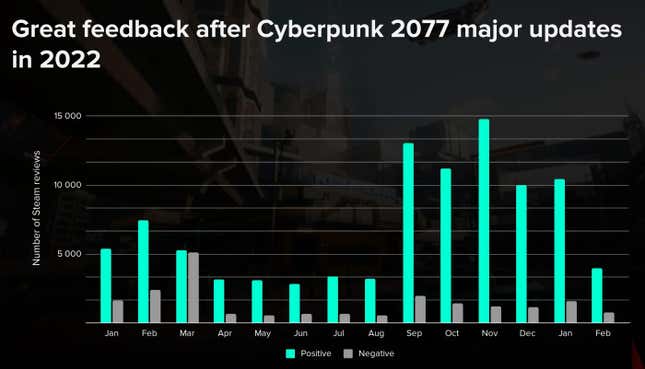 A big part of the rebound was obviously the game's massive 1.5 patch which added some new features and content, streamlined others, and overhauled a host of bugs, performance issues, and other problems. It notably released alongside the free "next-gen" upgrade for PS5 and Xbox Series X as well, making February 2022 the unofficial end of Cyberpunk 2077's unofficial Early Access period. A graph in CDPR's earnings presentation showed an inflexion point after the update was released where negative user reviews on Steam steadily declined while positive ones skyrocketed.

Read More: There Is No Saving Cyberpunk 2077
But an even larger factor contributing to Cyberpunk 2077's sales revival probably had to do with its super-popular Netflix adaptation, Cyberpunk: Edgerunners. Set in the same world but based around different characters, the streaming anime provided a lot of the compelling story beats some players had expected from the game. It also convinced a lot of people who had never played Cyberpunk before to go and try it out.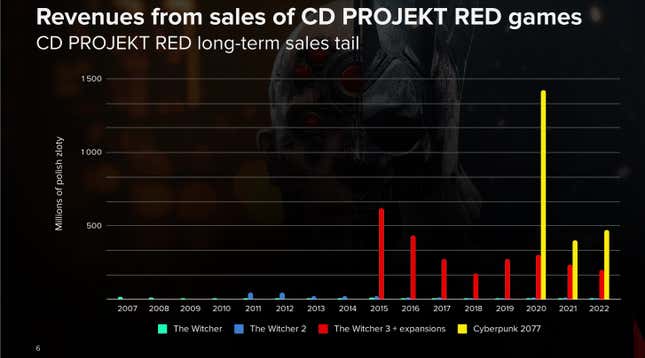 This Netflix effect was on display with The Witcher 3 as well. Another graph shared by CDPR showed its sales declining every year after release up until 2019, when the streaming adaptation starring Henry Cavill debuted. Sales then grew two years in a row and have remained higher ever since. (CDPR released a PS5 and Xbox Series X/S upgrade for that game as well in 2022, but it doesn't seem to have had much of an impact on sales yet.)

Cyberpunk 2077, meanwhile, could have an even bigger year in 2023. Its long-awaited paid DLC expansion, Phantom Liberty, is expected to arrive sometime in the second half. It'll star Idris Elba and seemingly add new storylines and areas of the map to explore, increasing the size of an already (overly) massive game. If it's anything like The Witcher 3's Hearts of Stone and Blood and Wine expansions, it will end up feeling like an entire game unto itself. We'll know more once CDPR announces the full details on Phantom Liberty at a showcase in June.