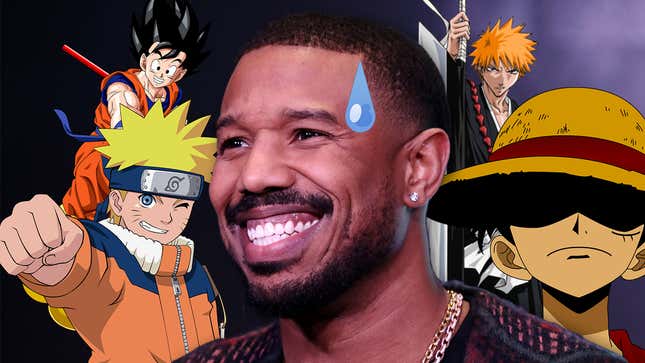 Last week, director and actor Michael B. Jordan revealed his top five anime recommendations during a press junket interview for Creed III.
The Anime Dream Team Behind Chainsaw Man
Read More: Creed III Director Michael B. Jordan Wanted It To Be Anime AF

Leading up to Creed III's release in theaters last weekend, news outlets like Variety, Nerdist, IGN, and Polygon have been fighting the good fight by asking Jordan hot-button anime-related questions. While most of the questions these entertainment outlets have asked pertain solely to just how many anime Jordan was influenced by while directing Creed III, BBC Radio 1 critic Ali Plumb asked the diciest question one could ask of an anime fan: their top five anime recommendations.

While this question might seem like a simple inquiry on the surface, it's actually a pretty major deal within the anime community. Why? Well, nothing is worse than getting a trash anime recommendation from an adamant anime fan. For example, say you really enjoy first-person shooters and a group of gamers asked you for your favorite games. While you might consider yourself to be among like-minded peers, if you said some shit like "Destiny 2 clears Call of Duty and Halo any day of the week," you're gonna find yourself in the middle of some age-old discourse, and nobody wants that.

Read More: Tired Of Battle Anime? Here's Four Wholesome Shows You Should Check Out
Suffice it to say, Jordan navigated the question pretty well by responding with the most popular shonen anime series to grace God's green Earth: One Piece, Dragon Ball, Naruto, Bleach, and Hunter x Hunter.

"That's a pretty good starting five," Jordan told BBC Radio 1.

Although I can't argue against the quality of Jordan's top five picks—especially considering three of the shows he mentioned were the most popular running series during the early aughts—Jordan's anime starter pack commits the cardinal sin that many of The Lord of the Rings fans routinely commit when forcing their friends to binge-watch the director's cut of the trilogy instead of the theatrical cut: They're a huge time commitment. Like, massive. It's hard to overstate just how lengthy a marathon it'd be to binge these five shows.
Read More: Loving Boyfriend Edits 115 Hours Of Anime Filler Out Of Naruto For Girlfriend

Bye-bye all of your free time
Collectively, it would take the average person over 957 hours (roughly 40 days of non-stop viewing) to complete Jordan's top five anime recommendations. Folks were quick to call out how outrageous Jordan's top five anime time commitments were in the comment section of a ripped TikTok video of Jordan's BBC Radio 1 interview.

"Bro just dropped 10,000 episodes and said yeah pretty good start," one TikTok user wrote.

"Bro said start with one piece 💀," said another.

"This man gave you 7 years of 'Starting Off' homework," wrote a third.

In an effort to save inexperienced anime fans, one TikTok commenter recommended people start off with less intimidatingly lengthy shows like Death Note, Fullmetal Alchemist, Yu Yu Hakusho, HxH (it's not as long as Jordan's other picks), and Samurai Champloo because their quality matches their manageable runtimes. As the Otaku of Kotaku, I approve of this list.

Outside of Creed III's anime shenanigans, Jordan's let his anime-loving flag fly in the past by launching a Naruto-themed clothing line with Coach back in 2019 and by starring in and producing Rooster Teeth's dystopian sci-fi series, gen:Lock.