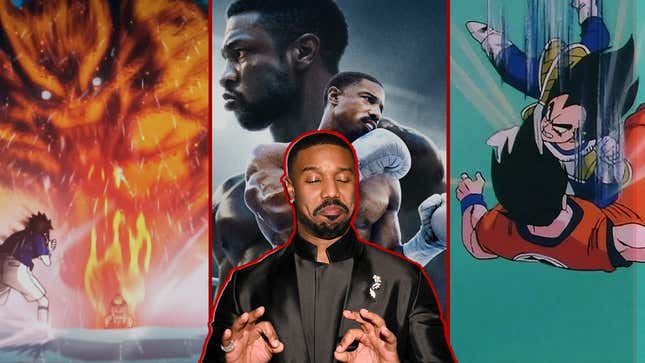 During a press junket interview for Creed III, actor Michael B. Jordan revealed that he wanted his directorial debut to be jam-packed with references to some of the best fights in anime.
Diablo IV Druids, Do This ASAP To Unlock Some Powerful New Abilities
Creed III follows the story of Adonis Creed, the son of Rocky Balboa's best friend and rival, Apollo Creed. After withdrawing from the world of boxing to become a family man, Creed (Michael B. Jordan) is challenged by his childhood friend and boxing genius, Damian Anderson (Jonathan Majors). Though Anderson and Creed once considered each other as close as family, Anderson aims to settle a grudge with Creed and prove he deserves the limelight and accolades his former best friend earned while he was serving a lengthy prison sentence.

Read More: It's Time To Stop Acting Like Nobody Watches Anime

Speaking with Polygon, Jordan said he wanted to use the emotionally resonant storytelling of his favorite anime, Dragon Ball Z and Naruto, to infuse Creed III's central conflict with greater depth and intensity. To do that, Jordan said he drew on iconic moments like Goku's fight with Vegeta in DBZ, the combative egos of Bluelock's soccer players, and the aesthetic of Jujutsu Kaisen's domain expansions to enhance the cinematography and drama of Creed and Anderson's big match.

During previous press junket interviews for Creed III, Jordan alluded to replicating an iconic anime punch in the film. While many anime fans, myself included, assumed the punch Jordan was referring to might be from Goku's battle with Majin Vegeta or any number of knockout punches from the popular boxing anime Hajime No Ippo, Jordan told Polygon the punch in the film is actually a reference to Naruto Uzumaki and Sasuke Uchiha's final battle in Naruto Shippuden.

"The fight between Creed and Damian had to be an even battle, and in an emotionally high place where these two men were both baring their souls to one another. The emotional level they were at, where they were coming at it from, the emotions between those two characters. That was the moment I leaned into with that scene from Naruto," Jordan told Polygon.

Read More: Naruto Has Some Of The Best Battles In Anime

Since Jordan watches anime every day, it was "second nature" for him to inject images he's seen from shonen anime that have long since been "burned into [his] head" into Creed III's fight choreography.

"There were moments during production where I was like, Where do I infuse these moments? I just have a highlight reel of moments from my favorite anime constantly running through my head that, you know, if it makes sense and it fits with the movie, I just pull from that for inspiration," Jordan said.

Aside from Naruto, Jordan told Polygon that Adonis and Anderson's brotherly relationship was also inspired by Ed and Alphonse Elric from Fullmetal Alchemist, Goku and Vegeta from DBZ, and Izuku Midoriya and Bakugo Katsuki from My Hero Academia.
"When you're watching anime, there's all these similar tones, themes, and feelings between them all that in a sense boil down to when a hero is challenged, and they usually have a best friend or rival that's the one challenging them in a lot of ways. There's a lot of different ways anime iterates on these themes and feelings," Jordan said. "So for me, tapping into that was just a part of me."
Jordan isn't the only Creed III star to embrace the film's anime influence. Recently Majors, who you might know from HBO's sci-fi series Lovecraft Country and Marvel's Ant-Man and the Wasp: Quantumania, did a glamorous One Piece-inspired photo shoot for Ebony Magazine. During the shoot, anime fan and stylist Alexander-Julian Gibbson had Majors display his muscular physique while wearing a pink jacket and pointed-rimmed glasses, harkening to the iconic wardrobe of One Piece villain, Donflamingo Donquixote.

Creed III is slated to hit theaters on March 3.