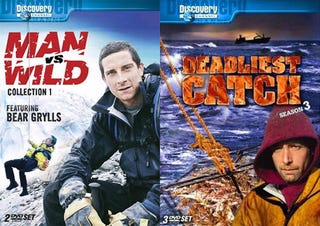 Two of Discovery Channel's most popular shows are getting the video game treatment courtesy of Crave Entertainment, who will be developing and producing titles based on Man vs. Wild and The Deadliest Catch.
This will be the second video game adaptation of crab fisherman show The Deadliest Catch, with Deadliest Catch: Alaskan Storm having been released just last year on the Xbox 360. Unfortunately, it sucked horribly, and I am not just saying that because it was a reality TV based title. I played it for days, often falling asleep at the controller. Sometimes realistically portraying something in video game form is a bad idea. Hopefully Crave does a better job.
Man vs. Wild is another Discovery Channel show I enjoy, which features survival expert Bear Grylls being air-dropped into all sorts of far-flung locations, forced to survive extreme conditions and drink his own urine. I've only seen a few episodes, so I don't know if he drinks his own urine for sure, but he seems the type of guy who would. Oh wait, here we go - Bear does indeed drink his own urine. Good times.
"The Discovery Channel has captivated millions of viewers by delivering non-stop action and suspense in these unique programs," stated Betsi Gijanto, Executive Vice President, Crave Entertainment. "Man vs. Wild and Deadliest Catch capture man's struggle to survive amidst the perils of nature on land and at sea. This rich content is a perfect concept for videogames."
I agree with Betsi there. The two shows are rife with video game possibilities, as long as they don't screw it up. Look for both games to arrive on "all current video game platforms" in the spring of next year.