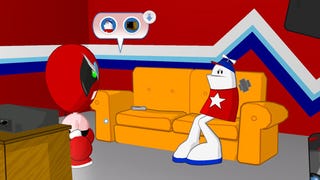 Two years after its release on the PC and the Wii, all five episodes of Strong Bad's Cool Game For Attractive People are coming to the PlayStation Network in North America on Dec. 21.
Pricing wasn't mentioned in Telltale Games' statement on the PSN release, but the set of five currently runs $29.99 on the PC and $10 each on the Wii. Telltale's news release says the game will be arriving on the Mac and in Europe shortly after the new year.
Update: This posting on Telltale's blog says the entire season will run $14.99 on PSN.
The five episodes are Homestar Ruiner, Strong Badia the Free, Baddest of the Bands, Dangeresque 3: The Criminal Projective, and 8-Bit is Enough.