Got big plans this weekend? If your answer is no (or an unenthusiastic yes), you could always head to your friendly neighborhood con.

Just because we're stuck inside working all weekend doesn't mean you have to. Every week, we'll round up cons with cosplay, gaming, collectibles, or anything else we find particularly awesome. We've linked the con sites, venues, and ticket information below.
EAST COAST
Scare-A-Con (Springfield, Massachusetts)
The horror and pop culture fan convention started yesterday and goes until Sunday evening. Ernie Hudson, Adrienne Barbeau, Tony Moran and other celebrity guests will be there.
When: Started yesterday at 5 pm, opened today at 11 am. Ends with an 8 pm costume party. Open tomorrow from 11 am to 3 pm.
Where: MassMutual Center
Tickets: Start at $25 and go up to $175 for the celebrity VIP experience. Get them here
G/O Media may get a commission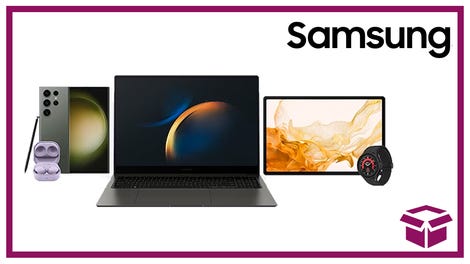 24 hour deals
Discover Samsung - Daily Deal
---
Awesome Con (Washington, DC)

Comic books, collectibles, and tabletop presenters will be in the capital for three days.
When: 10 am to 7 pm today, 10 am to 5 pm tomorrow
Where: Walter E. Washington Convention Center
Tickets: Range from $15 to $465 (!). Buy them in advance here
---
MIDWEST
Villains Con (Danville, Illinois)
Robert Axelrod, Selene Loomis and other celebrity guests will be here, right alongside cosplay contests and videogame and tabletop tournaments.
When: Today and tomorrow starting at 10 am, with a Pajama Party at 7:30 pm. tonight
Where: The David S. Palmer Arena
Tickets: Start at $15 and climb up to $175. Get them here
---
Arch Anime (St. Louis, Missouri)

Cosplay is at the core of this convention, which is in its third year. It's hosted for and by fans of anime, video games, Japanese culture and "nerd life in general."
When: Opened at 10 am and goes until 10:30 pm. Opens tomorrow at 10 am, and closing ceremonies end at 6 pm
Where: Gateway Center
Tickets: $35. Get one here
---
British Fest (Omaha, Nebraska)

British-themed games are welcome at this Harry Potter, Doctor Who and British pop culture convention.
When: Runs until midnight tonight and from 10 am to 3 pm tomorrow.
Where: Comfort Inn & Suites Omaha Central
Tickets: You can pick them up at the door. A day pass for Saturday is $25, and Sunday is $20. You can get the three-day pass for $40
---
Lake Effect Comic Con (Cleveland, Ohio)

Comics are the centerpiece of this one-day con.
When: 10 am to 5 pm tomorrow
Where: Holiday Inn Cleveland Northeast - Mentor
Tickets: $5 for adults, free for children. You can buy them at the door
---
Colossalcon (Sandusky, Ohio)

This four-day con is for fans of anime, gaming and Japanese culture.
When: Open until midnight tonight and from 9 am to 5 pm tomorrow
Where: Kalahari Resort
Tickets: You can buy them at the door. A four-day pass is $60, but one-day passes are $38 today and $22 for Sunday
---
SOUTH
ConCarolinas (Concord, North Carolina)
This convention is focused on science fiction and has events for gamers, cosplayers and fans in general.
When: Open now and ends with a showing of "Rocky Horror Picture Show" at 12:30 am. Open from 8 am to 4:30 pm tomorrow
Where: Embassy Suites
Tickets: Buy them at the door. $20 for a day pass on Sunday, $40 today. Go all weekend for $50
---
A-Kon 27 (Dallas, Texas)

Artist galleries, games, cosplay and masquerade balls, oh my.
When: Open today until the wee hours of tomorrow. Opens tomorrow at 8 am
Where: Hilton Anatole
Tickets: $53.75 today and $43.75 tomorrow (the weird number includes a service fee). Buy them at the door or register here
---
WEST
Power-Con: The He-Man and She-Ra Toy & Comic Book Experience (Torrance, California)
Toys, comic books, cartoons, collectibles, cosplay and voice actors will be on display at this convention.
When: Open until 6 pm (West coast time) today, from 10 am to 5 pm tomorrow
Where: Torrance Marriott Redondo Beach
Tickets: $25 at the door for either day
---
Coming up next weekend:
DieCon 16 (Collinsville, Illinois)
Magic City Con (Birmingham, Alabama)
OMG!con (Owensboro, Kentucky)
Oz Comic-Con (Melbourne, Vic, Australia)
Red Deer Comic & Entertainment Expo (Red Deer, Alberta, Canada)
Reiyacon (Rochester, New York)
Sci-Fi Valley Con (Altoona, Pennsylvania)
Sci Fi Summer Con (Atlanta, Georgia)
Southern-Fried Gameroom Expo (Atlanta, Georgia)
YetiCon (The Blue Mountains, Ontario)
---
Attending a convention this weekend that didn't make the list? Tell us about it in the comments.

Correction: An earlier version of this article stated this was Awesome Con's first year in Washington, DC, but it was hosted there in 2015.