Thursday's damage post was but a brief taste of the true financial ruin that comes from sending a fan of just about everything to Comic-Con at the last minute.
As you can plainly see, the pile has grown quite a bit since Thursday's post, but I can justify every purchase. Just not right now. Give me a couple of days to get my story straight.
Actually, here is what happened. I resigned myself to not getting into Hasbro's ridiculous line this weekend, so I decided to just pick up a few things that struck my fancy. Some Invaders Mini-Mates, and a Kotobukiya Bishoujo Rogue statue, plus the exclusive blue kitty looking thing figure from Seventh Kingdom. Seemed like neat things to have around the house.
Unfortunately I wandered past the Hasbro line yesterday afternoon to find it no longer wrapping around most of the show floor, which meant they were letting just anyone in. Being just anyone, I went in.
G/O Media may get a commission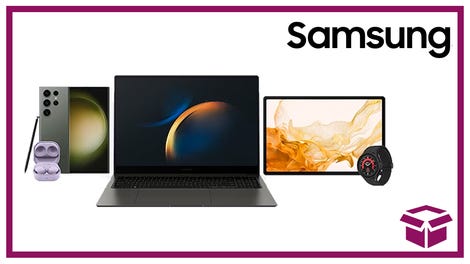 24 hour deals
Discover Samsung - Daily Deal
They give you an order form with little blank squares to fill in quantities, so I put a 1 in the Soundwave box. Then the other boxes looked lonely. I checked off the 12 inch GI Joe Baroness figure, and then for some odd reason the collectors My Little Pony and Littlest Pet Shop figures. Don't judge me! Next time someone claims I am sexist, I can point out that I own My Little Pony and Littlest Pet Shop dolls, after which they can call me even more sexist for assuming those two things are generally female-only toys.
I really cannot win.
So, after three days of Comic-Con, my grand total stands at...ouch. Ouch and a half. Luckily I will only be hitting the show floor one more day, and I'm so busy I couldn't possibly buy anything else.
McWhertor still has not bought anything. I hate him.