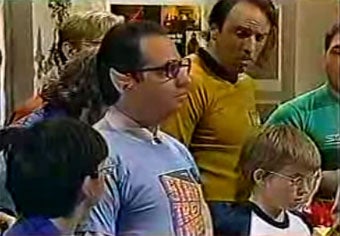 Good news, Windy City nerds. You're getting your own Comic Con! While it may not share the name of its New York Comic Con sibling, it will give conventioneering Chicagoans cosplay options in 2010.
The Chicago Comic & Entertainment Expo will hit McCormick Place's Lakeside Center on April 16, 2010, a three-day geek-out that will feature "artists, creators and celebrities from Hollywood, TV , comics, books, video games, toys, anime, manga and all other applicable aspects of the popular arts," according to Reed Exhibitions' Lance Fensterman. Yay! Video games!
The New York Comic Con hits the Big Apple this weekend, with the corporately unrelated San Diego Comic-Con dorking it up in July. The CCEE will reflect "the essence of Chicago," which I won't attempt to determine, as the whole of my knowledge of the city has been learned from Ferris Bueller's Day Off.
Chicago's Comic & Entertainment Expo will have to compete with another new convention, as Penny Arcade's PAX starts a Boston chapter next year as well.
We'd expect to see a decent amount of video game related content at all of these cons, with the new Chicago event seeing some love from developers and publishers, such as Midway, Volition, Day 1 and High Voltage Software, who call the city home.
Chicago lands 2010 comic book show [Chicago Tribune - thanks, Justin!]