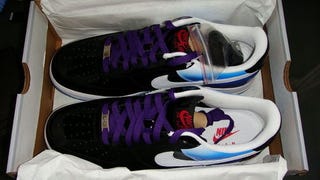 Last month we wrote about a pair of Air Force 1 Playstation 2 Tenth Anniversary shoes that Sony sent us.
The auction for the shoes just went live on eBay with 100 percent of the proceeds going to anti-Teen Dating Violence organization Jennifer Ann's Group. Only 50 of these were made.
The shoes are size 11.5, new and unworn. They're also sitting right by my desk as I type this. Go bid for charity if you're so inclined. The auction ends in ten days.
New! Nike Air Force 1 Playstation 2 10th Anniv. shoes [eBay]