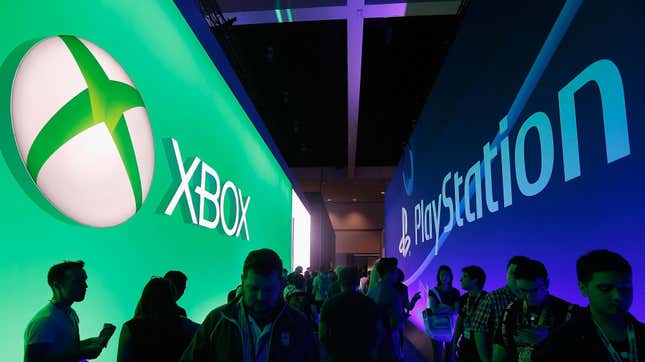 If the sale of Activision Blizzard to Microsoft for $69 billion goes through, it could have big consequences for the future of Call of Duty on PlayStation. At least that's what Sony Interactive Entertainment CEO Jim Ryan keeps saying. In a new deposition for the current lawsuit by the Federal Trade Commission, the PlayStation executive said the company won't share PlayStation 6 information with Activision if it eventually becomes part of Xbox.
Thank You, PS Plus, For Making My Backlog Even Bigger
"We simply could not run the risk of a company that was owned by a direct competitor having access to that information," Ryan told regulators, as reported by Stephen Totilo at Axios. The CEO also argued that in addition to Sony being unable to share "in-development console features" with Activision, the Call of Duty publisher would have less incentive to develop console-specific features for the PS5 and future devices like the PS6.
Totilo notes that Sony had previously collaborated with Activision in advance of the PS5's release. A potential example of that collaboration could be Call of Duty: Black Ops Cold War which launched the same year as the PS5 and included DualSense haptic feedback features and HRTF 3D audio for on the Sony console. Being locked out of pre-release PS6 dev kits would potentially mean a future Call of Duty in say, the year 2026, would run worse on Sony's next console.
A redacted section of Ryan's testimony also suggests that PlayStation previously ran into issues with supplying console info to competitors back when Microsoft purchased Minecraft, though we don't know what they are and the game has continued to be supported on new PlayStation hardware. "I believe that [Microsoft]'s incentives—their primary incentive will, at post-acquisition, would be to optimize its overall Xbox business, not the business of Activision," Ryan said in his deposition.
Read More: Sony Sounds More Paranoid Than Ever About Xbox Owning Call Of Duty
Of course, Sony-owned games like Destiny 2 and MLB The Show currently ship on Xbox, and it's unclear if Microsoft has or will face similar concerns with sharing similar info with Bungie and Sony San Diego Studio when new Xbox hardware is being developed. It's also in Sony's interest to convince regulators to spike the Microsoft Activision merger over antitrust concerns, and the company has been saying for months now that a sale would lead to worse performing versions of Call of Duty on PS5 and future hardware, despite claims by Microsoft that it would continue to support competitor's platforms with the series.
Ryan has declined to appear in person at the FTC's current set of hearings to get an injunction against the merger, and Sony will only be submitting pre-recorded testimony. Microsoft and Bethesda executives will take the stand in person, beginning on June 22 with Pete Hines, Sarah Bond, and Matt Booty. Microsoft's deadline to close the deal is July 18.