Giving hope to a hopeless franchise is part of what makes season modes in sports video gaming so fun. But in FIFA, a side that comes up from nothing finds itself with new big-league obligations, and when the money runs out, can answer them only with heart.
Sean (Kotaku user seanomatopoeia) created an 18-year-old Be A Pro striker on Legendary difficulty Manager Mode in FIFA 11, starting him with the MLS' New England Revolution, where he won two MLS Cup championships. That led to a gig with tiny Sheffield Wednesday in the Championship. SWFC has not played in in the English Premier League since 2000. Wednesday were promoted after only one season with Sean's help.
The following season, he found out why the larger sides have larger budgets. "My shallow roster started getting hammered with the addition of League Cup and Champions League play," he writes. Still, in Champions League, he managed a shocking 2-1 victory over Barcelona at the Nou Camp, "mainly by stealing Barcelona's strategy of never, ever giving up possession." Two goals off the post and several near misses from Barca also helped. "I was ecstatic," he writes.
Back in the Premier League, Wednesday suffered a dispiriting 2-0 loss to City, before facing Arsenal in the League Cup. The Gunners had obliterated the league the year before, and returned just as potent. In his menu, Sean saw seven starters on red stamina. "That left my goalie, two defenders, and my Be A Pro to carry the squad," with nothing but reserves rated in the 60s and 70s to back them up. So they went to Emirates Stadium.
Arsenal struck first and carried a 1-nil lead into the 74th minute of the second half. That's when Sean's pro, "completely unmarked, barely onside, right in front of goal," tapped in a pass into the upper left corner to tie the score. "Every defender's hand was raised in the air, praying for offside," Sean writes.
G/O Media may get a commission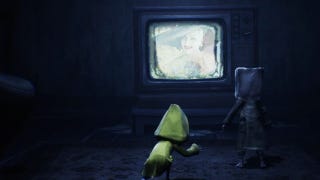 Horror Video Games to Play Leading Up to Halloween
Spooky and scary
Something video games have over their film counterparts when it comes to horror is the player's agency. Sure, watching the slasher claim their next victim can get a jumpscare out of you, but you know what's scarier? Knowing you had the power to stop it. Watching someone slowly open a door and enter a dark room is unnerving, but having to do it yourself will send shivers down your spine and paralyze you with fear.
Sean dropped his defenders back hoping to play for extra time, despite his squad's exhaustion. The first overtime saw sloppy play borne of fatigue, but in the 113th minute, Sheffield Wednesday's completely gassed left winger stole the ball and hit Sean's Pro with a perfect pass about 30 yards out. With four defenders trailing, he blasted the decisive goal into the side netting. Sheffield Wednesday held on in the face of a desperate seven-minute assault by Arsenal.
"In 3 games I'd defeated Barcelona at the Nou Camp and Arsenal at Emirates, despite an exhausted and underpaid team," Sean writes. "Now as luck would have it, we face Sheffield United in the next round." Here is the box score.
Remember, all you have to do to get yourself featured in Box Scores' Game of the Week is take a picture of whatever sports video game been playing - crappy cell picture will do - write up a couple sentences about why it was so compelling, and email it to me, owenATkotakuDOTcom, with "Box Scores" in the subject header. I will star all submitters, regardless of whether they are published. So be sure to include include your commenter page URL so I can properly credit the entry.
Now the Kotaku Sports open thread commences with the sports TV highlights for today and tomorrow. All times are U.S. Eastern.
Football
The Gold Cup final again pits the United States and Mexico, their second consecutive rematch. America won 2-1 in 2007 and was humiliated 5-0 in 2009. Winner qualifies for the 2013 Confederations Cup. (9 p.m., Fox Soccer Channel).
Tomorrow, the Women's World Cup opens with Group A play: Nigeria vs. France and Germany vs. Canada, 8:45 a.m. on ESPN2 and 11:30 on ESPN.
Tennis
The early rounds of Wimbledon are currently airing on ESPN2; NBC picks up the broadcast at 1 p.m. NBC has the action on tape delay tomorrow at 2 p.m.
Baseball
The College World Series final between South Carolina and Florida does not begin until Monday. Today, Fox's game of the week is either the Mets at Texas Rangers, Washington at the White Sox, Angels at Dodgers, or Cleveland at San Francisco, 4 p.m., check local listings. The Cubs are at the Royals at 7 on WGN.
Tomorrow, it's Colorado at the Yankees on TBS at 2; Nats-ChiSox on WGN at 2, and Indians-Giants on ESPN at 8.
Motorsports
The European Grand Prix is on same-day tape at noon Sunday on Fox. TNT has NASCAR's Toyota/Save Mart 350 at 3. Practice and qualifying for both is today on the Speed Network, if you have that.
Other Stuff
The U.S. Outdoor track and field championships are on NBC today and tomorrow at 5 p.m. The PGA Tour's Travelers Championship is on CBS today and tomorrow at 3.
Remember, you may send your sports Game of the Week nominations to owenATkotakuDOTcom, and flag it "Box Scores" in the subject header. Please include your commenter handle for proper credit.
(Top photo by Clive Brunskill | Getty)