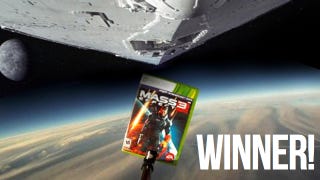 The suborbital marketing stunt experiments of Mass Effect 3 provided the palette for our smart 'shoppers, who took the game to the reaches of the universe—and absurdity. We've got 20 Kotaku 'Shop Contest finalists inside, including seivewright!
Leading off, TuxedoFox (20) came in with a brilliant conclusion to this space spectacle. mentuss (14) returned from a long hiatus with Shepard's perspective of the balloon. Scratchbutt (15) gets on the board with a tribute to Math Blasters.
Star Wars was a big theme, as you can imagine. Aaron Gray (1) and IndispensableNobody (10) mined it for comedic gold. Nintendo also provided inspiration for many, including BigMikeMcCarthy (2) and Carlanga (4)
greatcarbuncle (8) and lhsus (9) supplied our callbacks for the week. Stuart.C (18) and triple (19) provided variations on a theme.
Overall winners? I loved Skitzogreg's subtle joke (17) and Chris Blanchard (5) brought science fiction to its ancestral, earthly home—a New Mexico landfill. But for overall space-opera laughs, I'll take seivewright (16).
Thanks to all who entered, we'll have another contest tomorrow
Aaron Gray

BigMike McCarthy

bugashi

Carlanga

Chris Blanchard

GiantBoyDetective

Goufunaki22

greatcarbuncle

ihsus

IndispensableNobody

JimThePea

JimThePea

MangledRex

Mentuss

ScratchButt

seivewright

skitzogreg

Stuart.C

triple

TuxedoFox