Deus Ex: Human Revolution leads us back to the land of big release weeks, serving up the third game in the Deus Ex series and, canonically, the prequel to the first. Other names of note include another map pack from Call of Duty: Black Ops and Street Fighter III's "Third Strike" Online Edition.
Tuesday
• Deus Ex: Human Revolution (360, PC, PS3)—The heavily anticipated action-RPG hits shelves nearly four years after it was originally announced. Human Revolution is set in 2027, before nanotechnological enhancements, but in a time of some startling biological augmentations.
Also: Street Fighter III: Third Strike Online Edition (PSN); Call of Duty: Black Ops — Rezurrection (360); Shin Megami Tensei: Devil Survivor Overclocked (3DS);
Wednesday
• Street Fighter III: Third Strike Online Edition (XBLA)
Looking Ahead
Aug. 30: Madden NFL 12. Sept 6: Driver: San Francisco, Dead Island, Resistance 3, Warhammer 40,000: Space Marine. Sept. 13: Red Orchestra 2: Heroes of Stalingrad, NHL 12. Sept. 20: Gears of War 3. Sept. 27: Pro Evolution Soccer 2012; X-Men: Destiny; FIFA 12. Oct. 4: Dark Souls; NBA 2K12; RAGE; Spider-Man: Edge of Time. Oct. 11: Ace Combat: Assault Horizon; Dead Rising 2: Off the Record.
G/O Media may get a commission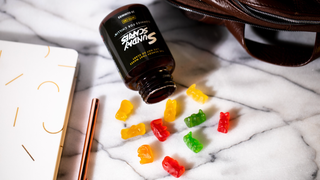 10mg CBD Gummies (22-Count)
What are you getting? What do you want? What are you looking forward to? Sound it off below, and at #twig.
Sources: Video Game Release Calendar; GameStop
---
You can contact Owen Good, the author of this post, at owen@kotaku.com. You can also find him on Twitter, Facebook, and lurking around our #tips page.