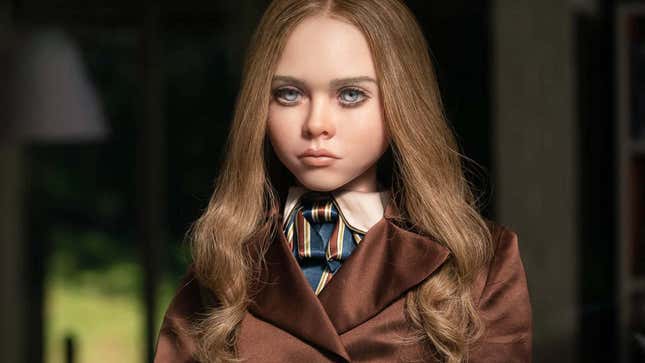 Announced earlier today, Blumhouse—the Hollywood production company behind hit horror films like Megan and Get Out—is launching its own video game studio led by some game dev vets. The new studio, like its parent company, will focus on scary games with smaller budgets.

The Week In Games: High On Witchcraft
If you watch horror films, then odds are very high that you've seen at least one or two Blumhouse films in the last decade. The company, founded in 2000, has become a scary movie factory, pumping out numerous hits every year. Stuff like The Purge, Get Out, Paranormal Activity, the new Halloween films, and much more all bear the Blumhouse label. And earlier this year, Blumhouse released Megan, a movie about a robot girl who goes on a murder rampage. It went on to make a ton of money against a modest budget and already has a sequel in the works.
Now, Blumhouse will try to use a similar strategy with its newly announced subsidiary: Blumhouse Games.

This new video game company will produce and publish smaller, indie horror games. In a press release announcing Blumhouse Games, the company stated that all of its games would have budgets of $10 million or less. Blumhouse says this lower budget will "enable innovation" and help devs push "creative boundaries." It will also make it much easier for these games to turn a profit.

Who is running Blumhouse Games?
Blumhouse Games will be led by video game veterans Zach Wood and chief financial officer Don Sechler. Wood has been a video game producer for over 20 years, shipping over 30 games across nearly every platform you can think of, including Game Boy, PlayStation 4, and Xbox Series X. He previously worked on games like Sound Shapes, Prey, Unfinished Swan, and Redfall.

Sechler ran finance and strategy for PlayStation's publisher/developer division, with a strong focus on third-party devs. According to Blumhouse, during his time at PlayStation, the company invested over $150 million into indie games.

"For some time we have been looking to build out a team to start accessing the growth opportunity in interactive media," said Blumhouse president Abhijay Prakash. "With their experience, sensibility, and knowledge of the marketplace, Zach and Don are the ideal leaders to leverage Blumhouse's unique genre strengths into gaming."

Blumhouse joins non-gaming companies like Netflix, Skydance, and TikTok who have all begun to invest more in video games. Netflix in particular seems to be leaning on games as a way to help diversify its offerings as it fights for subscribers and eyeballs in the highly competitive battlefield that is online video streaming. However, Blumhouse's approach—focusing on smaller and cheaper scary games—is unique among all the other companies jumping into the industry and could help it find similar success to its recent string of blockbuster horror hits.

It's still very early, as the company didn't announce or even hint at future games or when to expect its first project, but it could be a very exciting time for scary game lovers everywhere if Blumhouse can replicate its Hollywood strategy with video games.