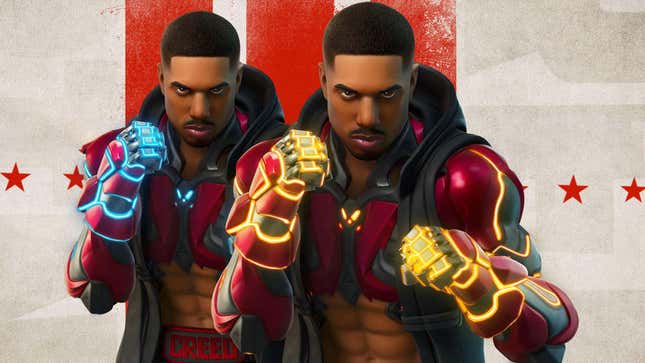 The first Rocky film was released way back in 1976. It was a gritty, well-written, and heartfelt movie about a down-on-his-luck boxer given one last chance to make a name for himself. Decades later, Creed was released as a spin-off for that franchise, and it kept the same gritty tone and down-to-earth feeling of the original films. Now, in 2023, Fortnite is adding cybernetic super boxers into the universe. Thanks?

Out next month, Creed III is the next entry in the Rocky spin-off series starring Michael B. Jordan as Adonis Creed, the illegitimate son of Apollo Creed—a main character from the original films. And because Creed III is a new film releasing in 2023, it has to have tie-ins with other pre-existing media. That's how we ended up with Adonis Creed, a man who famously uses his fists to fight people, landing in Fortnite on March 1, ready to grab an assault rifle and kill characters like Darth Vader and Goku.

But this ain't just Adonis Creed. Oh no. Fortnite includes five variants of the character, including three versions that replace Creed's arms with robotic-cybernetic limbs. I'll admit, it looks pretty cool and does tie in with the anime vibes the film apparently has, but it also feels a bit off for this franchise.

I mean, I'll be honest with you all: I've not seen the new film. It's possible that the third act twist is Creed losing his arms in a car crash and getting them replaced with cool and powerful mechanical limbs. But if that is the case (though I don't think it is) it seems silly to spoil such a shocking moment in a Fortnite skin.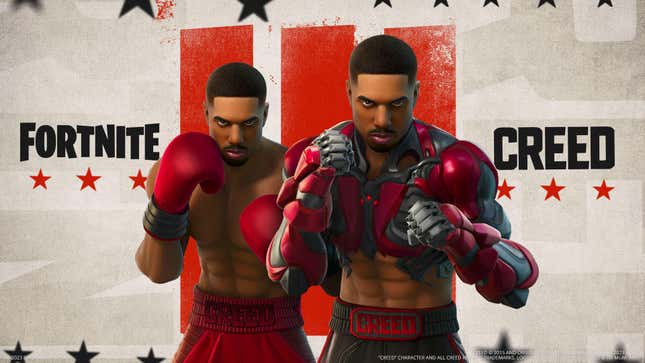 Adonis' arrival in Fortnite will also coincide with new quests and rewards for players to unlock, including a new Creed III-themed spray.

Of course, this is now the point where I have to address the Rocky fans screaming at me about the robot butler seen in Rocky IV aka the one where he fights the Russian guy in the USSR. And, okay, fair. In fact, now that I think about it, perhaps in the Rocky universe, everything is the same except robot technology is super advanced compared to our timeline. Maybe eventually they won't even need humans to box and will rely on robots. Wait a minute…they made that movie already. Nevermind. I'll stop now.

Adonis Creed and his cool arms will arrive in Fortnite tomorrow, March 1, across all platforms. And Creed III is out on March 3.