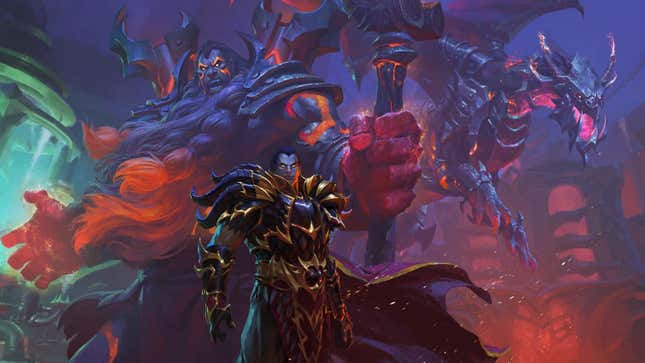 It's a pivotal moment for Blizzard, and some developers there worry the company is facing an unnecessary wave of departures that could hamper games like World of Warcraft, the long-running MMO whose recent Dragonflight expansion was praised by critics and players alike. At least a few employees say the studio's mandatory return-to-office in July is making things worse, but that management is pushing ahead with it anyway.

This Mini Sega Arcade Cabinet Packed With Retro Games Would Make A Great Gift
"Being loud about it because I've lost yet *another* person this week," World of Warcraft game producer Adam "Glaxigrav" wrote in a tweet thread in April. "We are creating crisis maps of what we can or cannot ship," it continued. "THAT is the loss of capacity we're facing."
The thread garnered other responses from Blizzard devs frustrated with the apparent situation, IGN reported at the time. "Forced RTO has cost us some amazing people and will continue to cost us more in the coming months," WoW senior designer Allison Steele wrote. "Aint this the fucking truth," responded fellow senior designer Mark Kelada. A Blizzard spokesperson said at the time that "crisis maps" weren't a "team practice for WoW" but that decisions are made around what things to prioritize during game development.
Blizzard faces no shortage of new challenges right now following a 2021 workplace reckoning and in the lead-up to a possible acquisition by Microsoft. Brian Birmingham, a 17-year veteran and co-lead on WoW Classic, was fired in January after protesting the company's new stacked-ranking system that forces managers to give a certain percentage of employees bad performance reviews.
"ABK is a problematic parent company," Birmingham tweeted after he was fired. "They put us under pressure to deliver both expansions early. It is deeply unjust to follow that by depriving employees who worked on them their fair share of profit. The ABK team should be ashamed of themselves."
This sentiment spilled over in a contentious February all-hands meeting as well. Blizzard President Mike Ybarra surprised staff with bonuses that were only around half of what was expected, and made remarks some took offense to. "At the end of the day we want people to be happy, and if decisions about being happy don't align with where we're going, and you won't be happy, then you'll have to do what will make [you] happy," he told staff at the time, according to a report by Game Developer.
Some took this to mean that Blizzard would rather push developers out the door than revise company policies, like the controversial mandatory return to office. Starting in late July, Blizzard developers will be required to be at the Irvine, California campus at least three days a week, even if they've spent the last few years of the pandemic successfully working remotely (Activision and King developers have already returned to in-person hybrid work).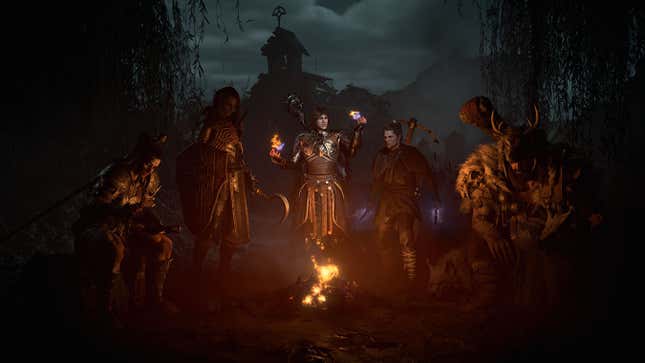 "I think my future at Blizzard—my days are numbered," one current member of the Diablo IV team, who wished to remain anonymous because they don't have permission to discuss company business, told Kotaku. They said some others on their team have already given notice, and none of their managers agree with the return-to-office policy. "To lose people leading up to a launch like this is really bad," they said.

While unlikely to affect the state of Diablo IV at release, which has already earned tons of positive buzz from its recent betas, they said the turnover could potentially impact the online action-RPG's post-release content plans if it continues. That's because a hiring freeze has made it hard to backfill positions, they say, and left teams to cut certain tasks they don't have time for. "Blizzard is tightening its belt right now and they want people to leave," the employee said, speculating that the attrition was one way to cut headcount without having official layoffs.
Activision Blizzard has promised to grant remote work exceptions for some employees, but two current developers told Kotaku the process for requesting them was opaque and, anecdotally at least, few managed to obtain them. Meanwhile, recent high-level hires responsible for selling employees on the policy, like Chief Administrative Officer Brian Bulatao and Chief Communications Officer Lulu Cheng Meservey, have full-time remote status.
At the same time, remote work has been embraced by some of Activision Blizzard's biggest competitors. Bungie, the studio behind Destiny 2, previously published by Activision and now owned by Sony, offers fully remote employment options. And Respawn Entertainment, a studio created by ex-Activision devs, recently launched Star Wars Jedi: Survivor to rave reviews while working remotely.
Concerns about the return-to-office policy were raised again last week in a town hall meeting with Activision Blizzard leadership following its most recent earnings report. Why, some wondered, were staff being forced back to the office despite "performing exceptionally well" the previous quarter? One of the responses came from CEO Bobby Kotick who pointed to the idea to buy Guitar Hero publisher RedOctane over a decade ago as an example of the virtues of in-person collaboration.

"One thing I would say is that in the 30 years I've been doing this I can't tell you how many great ideas came from serendipitous encounters, people not having the planned conversation," Kotick told the company, according to a recording of the remarks shared with Kotaku. He continued:
You know, give you a great example. A person who—Ronald Doornink was our president—had been visiting a Walmart, saw Guitar Hero flying off the shelves. [He] came in one day and had a guitar, and we saw it and we asked him what it was. The next thing, we got engaged in discussions to acquire Guitar Hero, and so that serendipity has always played a really important role in not just the small ideas but the big ideas and how you actually foster creativity.
Purchased by Activision in 2007, the rhythm-based Guitar Hero series was initially a massive financial hit for the company. A glut of sequels and attempts to cash in on an ever-expanding array of instrument peripherals, however, quickly burned audiences out on the franchise, and diminished sales eventually led the brand to be put on indefinite hiatus. While an important moment in Activision Blizzard's history, Kotick's example seemed far removed from the types of decisions and work many at the company will be performing in-person on a day-to-day basis.
"Blizzard is a dream for a lot of people," the Diablo IV developer told Kotaku. "My team feels like everything could be remote. We've done even more work during the pandemic [while remote]."
Activision Blizzard declined to comment.