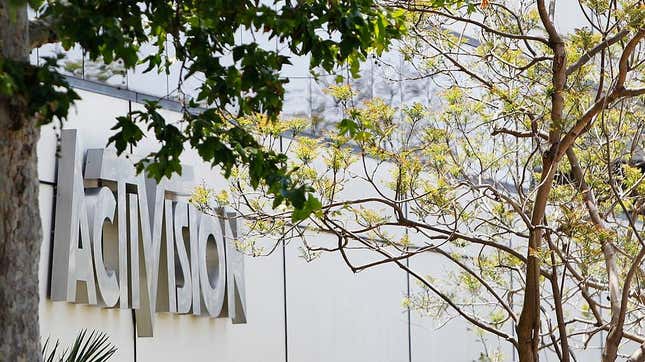 While the worst of the pandemic is clearly over, a few years of getting people to work from home has shown that a lot of folks are happier, and even work better, if they get to do it where they live. So decisions to force employees back into the office are understandably going to be met with resistance across the workforce, and video games are no exception.

This Mini Sega Arcade Cabinet Packed With Retro Games Would Make A Great Gift
Activision Blizzard has confirmed with Game Developer that their own plan, first made public in this Twitter thread by @LeastMyHairIsOk, will see Activision publishing employees asked to come back to the office on April 10, while Blizzard workers would be doing so on July 10 (King employees, meanwhile, went back in July 2022).
UPDATE: King employees were not forced back to the office in July 2022; that was the date their offices reopened, and while some workers have returned, others are still doing their jobs remotely.
It should be noted that neither Activision nor Blizzard workers are being forced back into the office full-time, as "employees for both divisions will be required to come to the office three days a week".

That's still a huge concern for both current and prospective employees, though, as not only are people still catching Covid and dying from it, but three years of remote work has shown a lot of specialised workers in the games industry that they can do their jobs just fine without the health risks, commute and other frictions involved in having to travel to a certain place to do all your work, all while dodging a global pandemic and battling a cost of living crisis.

LeastMyHairIsOk—a Blizzard employee in customer support—spells this all out in their Twitter thread, pointing out other issues that have arisen because of, or at least alongside, the pandemic. I've collected their Tweets here:
The majority of employees at ABK have no interest in returning to office either full or part time. This isn't to say that nobody sees the value in an office environment, but we've overall decided the risks do not outweigh those benefits.

Getting the giant elephant in the room out of the way - COVID continues to be a threat to life and ability despite government guidelines. It is a mass disabling disease, and many of our workers or their families are at high risk of complication should they catch it.

Further, WFH arrangements have resulted in employees having more time, since they aren't losing it in commutes. Lowered gas/insurance costs, as well as the ability to live further away from the expensive cities we labor in, equates to more effective take home pay.

This is crucial because we are currently going through an inflation crisis that ABK has failed to assist with. Cost of Living has shot up across the country, and employees are feeling the strain, with several departments taking yearly effective pay cuts despite "Raises".

To escape the pressures of rising CoL and stay safe, employees have made cuts. They've moved further away from our offices in expensive cities, sold or avoided purchasing vehicles, and changed the way their households handle things like childcare and schooling.

For over a decade now, lower earning departments have pleaded with leadership to include yearly CoL adjustments into salary to prevent this, but been denied, and our most recent meetings from last month suggest that there are no plans for this to change this year.

Two to four months is not enough time for the company to shift this stance, even if they were willing. Even assuming they are, it is not enough time for those who made the hard decision to move away to uproot and return.

Leadership isn't prepared for what is likely to happen - an exodus of talent as we find work elsewhere. Other jobs in the tech sector pay better and offer WFH, and it is clear our thoughts on the matter are irrelevant. What incentive do our employees have to remain at ABK?

That means the rest of us have to work harder, lowering morale. It means that we will need to rehire or outsource, which also means product delays and less polished products released this year. All of these factors will result in even lower pay for employees next year.

This RTO plan does not even affect my department, Customer Support, which has been granted full WFH with no involuntary RTO plans. However, I feel compelled to speak out for my coworkers in solidarity. We see you, and we will support you.

Our employees have consistently put out excellent work despite the drawbacks of WFH since COVID started. To throw them back into office to risk disease and death on the weak justification of "Better collaboration" is unconscionable.

ABK leadership is either maliciously aware of all of these factors or actively incompetent. We have had back to back years of record earnings while cost cutting measures like layoffs were continually justified. WFH was the silver lining that kept many of us here.

It is clear what this RTO policy really is - an ultimatum. "Bend to our idea of correct working conditions, or leave." To ABK leadership, we have been flexible long enough. It is your turn to bend, before you break this company irreparably.
They're all solid points, and won't just be something Activision Blizzard has to reckon with in the coming months. Any company trying this is going to meet resistance, which is why smarter ones like Bungie are already adapting their hiring policies to accommodate a more remote workforce.