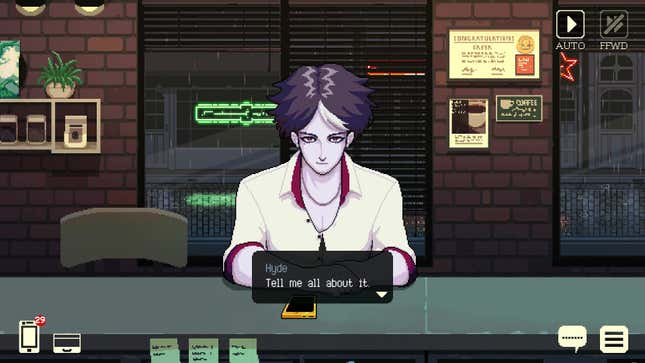 When the first few sounds of a video game's loading screen music are glinting synth starbursts, disintegrating into airy jazz chords like they got splashed with warm water, I know I'm about to play something cozy.
Baldur's Gate 3's Karlach Actor On Playing The Beloved Barbarian
In the near-decade since Stardew Valley became the sun-kissed pinnacle of modern relaxing games, other important games in the genre, like Animal Crossing: New Horizons and Coffee Talk, have grown the 2000s tradition of sparse keyboard arrangements into layered lo-fi, hip-hop-forward lounge music for their original soundtracks. Andrew "AJ" Sitompul, who composed music for both Coffee Talk and its recent sequel Coffee Talk Episode 2: Hibiscus & Butterfly, tells me that's the way it should be.

Read More: Here's 13 More Exciting, Cozy Games Coming Out In 2023

"For me, it's simple," he tells me over email. "When [games] use songs that make our brains feel shaky and intense blood rush, it's definitely a red flag."

Cozy games provide the alternative, the tropical island vacation, propping up their "story and emotional experience" with resolute keyboard, heavenly synth pads, and frizzled low-fidelity effects applied all over them like syrupy glue.
This kind of music is perfect for Indonesian indie studio Toge Productions' Coffee Talk games—barista simulators motivated by magical realism, with emotional succubi and orcs who really only want chai and someone to talk to. Coffee shops outside of games are already synonymous with toasty calm, steamed milk, and velvety, open mic night guitars, and so Sitompul took inspiration from real life when working on his score.

He'd come up with Coffee Talk ideas "when I was hanging out with family or friends, or when I was driving around the town," he says. "I would often record [them] on my phone. And when I got home, then I just worked to get the feel, composition, and sound effect." For the first game, that routine also involved some trial and error.

Coffee Talk "was the first time I made lo-fi music," he says, "and it was quite fun to do lots of research to understand the process," like learning to leave mixing as an afterthought, since "it's lo-fi after all. I just try different combinations of sound effects and equalizations [...] that have their own style." These styles are borrowed from the history of easy listening—sumptuous '60s Brazilian bossa nova, citrusy bright '90s Japanese Shibuya-kei, and, most directly, the soul of contemporary American jazz rap.
During the initial stages of the original Coffee Talk soundtrack, "I didn't feel quite sure at first that the music would really be liked," Sitompul says, "but I was wrong." By Coffee Talk 2, Sitompul's yawning kick drums on the OST songs like "Heartfelt Smile", or the fluttering, hummingbird synth loop on the elated "Pardon My Words," have become inseparable from the soft-hearted game. All together, the sequel scores "high on the chillometer," a recent Steam review declares, and it contributes to well-documented evidence that music is both a stress and physical pain reliever.

Reflecting on his beats for Coffee Talk, Sitompul says "I finally created something that could help people, not only when they play the game, but also when they need to listen to it in their real life while facing life issues and challenges."

That gives him joy, Sitompul says. Music doesn't only define a game, but a lifetime.