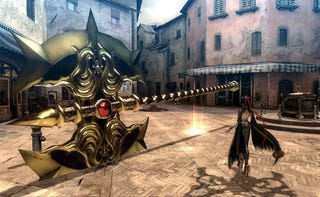 Sega and PlatinumGames have pledged to release Bayonetta for the PlayStation 3 and Xbox 360 worldwide this Fall. The good news is that the game has been dated in Japan, arriving overseas on October 29th.
That date was dropped in the latest issue of Famitsu, which could mean good news for those of us in North America too. See, Sega of Japan announced earlier this year that Bayonetta's previously, less-specific "Fall 2009" release window was reflective of a simultaneous worldwide release. So we may get it in October, as well.
Honestly, we were getting a little concerned about the game's ability to ship in 2009, given all the other titles slipping into 2010 recently. But, fingers crossed, we'll be kicking ass with hair by Black Friday.
We've gotten in touch with Sega of America to see if they have a date for the megaton-filled action game and will let you know what we hear.