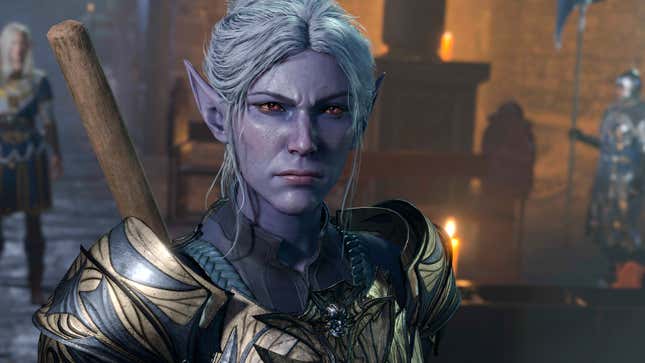 Yesterday, Larian Studios announced Baldur's Gate III will come to PS5 the same day the PC version leaves Early Access. It sounded like an exclusivity agreement might be keeping it off Xbox, but the devs say that's not the case. So what's the hold-up? Getting the co-op RPG's splitscreen action to work on the weaker Xbox Series S.

Thank You, PS Plus, For Making My Backlog Even Bigger
Larian revealed the August 31 launch date for the PS5 console port in a new trailer during Sony's latest State of Play that, among other things, showcased actor J.K. Simmons voicing newly revealed villain General Ketheric Thorm. It's normal for Sony-promoted teases to leave out competitors' platforms, but when fans didn't see an Xbox release date on Larian's website either, they began to wonder.
Today, the studio clarified what's going on, stating that an Xbox version will arrive if and when Larian can get splitscreen gameplay working across both Series S and Series X:
We're seeing a lot of varied interpretations of what that means, so we wanted to clarify further. We've had an Xbox version of Baldur's Gate III in development for some time now. We've run into some technical issues in developing the Xbox port that have stopped us feeling 100% confident in announcing it until we're certain we've found the right solutions—specifically, we've been unable to get splitscreen co-op to work to the same standard on both Xbox Series X and S, which is a requirement for us to ship.
There's no platform exclusivity preventing us from releasing BG3 on Xbox day and date, should that be a technical possibility. If and when we do announce further platforms, we want to make sure each version lives up to our standards and expectations.
It's an especially interesting wrinkle considering players have long speculated about the trade-offs and challenges involved in developing games for the similarly-specced PS5 and Xbox Series X that must also accommodate the less powerful Series S. Splitscreen can be an especially taxing feature, and was notably dropped from Halo Infinite last year as 343 Industries tried to salvage the online shooter's live-service ambitions.
Baldur's Gate III's minimum PC specs already require an Nvidia GTX 970 graphics card at minimum, with a GeForce RTX 2060 recommended. While not likely to push PC players' hardware the way recent blockbusters such as the Dead Space remake or The Callisto Protocol have, it's still more than what your average isometric RPG fan probably has on hand. The console port could potentially be a big boon then to those who don't already have a higher-end gaming PC, or the funds to upgrade. That said, for now it seems like the $250 Series S might be getting in the way.