For as low as $250, you too can become an investor in Atari Game Partners' attempt to bring a Rollercoaster Tycoon game to the Nintendo Switch.

Atari Game Partners is a subsidiary of Atari responsible for taking the brand's library of classic IPs and somehow making money off of them. The company's latest move is to try and bring a brand new version of its old theme park sim Rollercoaster Tycoon to the booming Switch using a crowdfunding site called StartEngine. Unlike Kickstarter, StartEngine is a platform for financial investment. People who give Atari Game Partners their money are doing it not to get a copy of the eventual game but rather to get a return on their investment. So far it's raised $21,200 with 89 days to go.
With buy-ins starting at $250, would-be participants are being promised "pro rata share of 50% of profits" until they make 120% of their investment back, and then 25% of profits for the following 18 months after the game is officially launched. But that's only if Atari Game Partners raises the two million dollars it's looking for. The company's left itself some wiggle room to decrease those pro rata shares if it ends up raising a lower amount by the end of the investment phase.
Who would be developing this game? None other than Nvizzio Creations, the studio who put together Rollercoaster Tycoon World, the most recent and incredibly poorly received game in the series. Atari Game Partners mentions the studio's role in the game in the StartEngine pitch but spends more time focusing on Rollercoaster Tycoon Touch, a spin-off of the series that's done well on smartphones. The company implies this is the game that will be used as a blueprint for the new Tycoon on Switch and will incorporate different scenarios as well as sandbox and campaign modes.
While Atari is trying to cash in on the love and nostalgia for the original Rollercoaster Tycoon series, it's worth noting that while the company owns the license, it didn't actually develop the main trilogy, and in fact only published Rollercoaster Tycoon 3. Although the series was originally helmed by Chris Sawyer, the third game was actually developed by Frontier Developments, who ended up sueing Atari for unpaid royalties last year, accusing the company of lying about how much the game sold when it came out back in 2004.
G/O Media may get a commission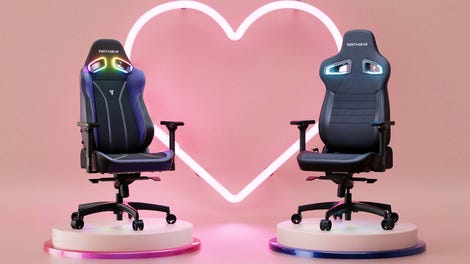 Up to $150 off
Vertagear Gaming Chairs
It's odd to see a brand like Atari, famous for introducing console gaming into American homes and developing and publishing all-time-classics like Pong and Centipede, reduced to wooing investors through the ill-defined and loosely regulated world of equity crowdfunding. The site it chose, StartEngine, bills itself as "like Shark Tank, except you're the shark." Atari has not yet responded to a request for comment.
Perhaps most ominous is a short statement toward the bottom of Atari Game Partners' pitch.
"We might incur Irregular Use of Proceeds that may include but are not limited to the following over $10,000: Vendor payments and salary made to one's self, a friend or relative; Any expense labeled "Administration Expenses" that is not strictly for administrative purposes; Any expense labeled "Travel and Entertainment"; Any expense that is for the purposes of inter-company debt or back payments."
Atari Game Partners lists "2018" as the anticipated release for this new Rollercoaster Tycoon.
[Update - 5:30pm, 2/2/18] A spokesperson for Atari provided the following in response to questions about why Atari decided to look to the internet for investors in its upcoming Rollercoaster Tycoon:
"As a publisher, Atari has started the development of the game and will release it no matter what the outcome of the campaign, because it has the resources to do it. This is clearly set forth on Page 14 of the Offering Details: 'For the further avoidance of doubt, if we do not raise 100% of the funds, our majority stockholder intends to provide additional funding or credit in exchange for the balance of the Net Receipts not distributed to the Investors.'"