Assassin's Creed Odyssey's season pass will include, among other things, a remastered version of Assassin's Creed III, publisher Ubisoft said today. There's also downloadable content set in Atlantis, DLC surrounding the "first hero to wield the iconic hidden blade," and a remaster of Assassin's Creed III: Liberation.

These Great Fortnite Creative Maps Show Us What's Possible
The Assassin's Creed III remaster will also be available standalone for PC, PS4, and Xbox One when it goes live in March, Ubisoft said. It'll have improved "gameplay mechanics" and "ergonomics," about which we've asked the company for more details.
Assassin's Creed III, which came out in October 2012, is set during the American Revolution and polarized fans and critics with its bloated side missions and unlikeable protagonist. Kotaku editor-in-chief loved the game for its innovations and storytelling, while others on staff found it irritating.
There's a meaty collection of goodies in Odyssey's season pass—as there should be, for $40—which includes two big DLC packs that encompass three episodes each, with new episodes releasing every six weeks. The first pack, Legacy of the First Blade, is for big Assassin's Creed nuts—it'll start this December and tell the story of the first Assassin, who apparently wasn't Bayek? Said Ubisoft: "This episodic adventure will introduce players to the first hero to wield the iconic hidden blade, changing the course of history. Players will learn more about the backstory of the Assassins and why they choose to fight from the shadows."
G/O Media may get a commission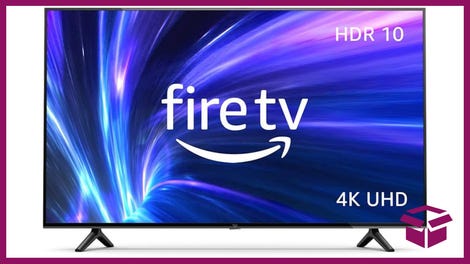 42% Off
Amazon Fire TV 50" 4K Smart TV
The second DLC pack, The Fate of Atlantis, is a sequel to the iconic Indiana Jones game. Just kidding. It'll take you to the infamous underwater city, which sounds incredible.
Ubisoft also says there will be free new content for everyone who buys Odyssey, which comes out October 5. Here's what you'll get, via Ubisoft:
The Lost Tales of Greece: Free episodic questlines will release regularly in-between episodes, providing a constant flow of new stories for players to discover. These quests will feature familiar faces and new characters from the world of Assassin's Creed Odyssey.

Recurring In-Game Events: Each week a new epic ship or mercenary will appear, presenting players with challenging battles as they hunt down these powerful enemies. Daily and weekly contracts will send players on new quests across Greece.

Discovery Tour: The educational tool will let players explore the game world in a conflict-free environment and learn about Ancient Greece's monuments, culture and history.

Many more updates, including new monstrous and mythical creatures to defy and a New Game Plus mode presenting new challenges and the ability to see how different choices affect players' stories.