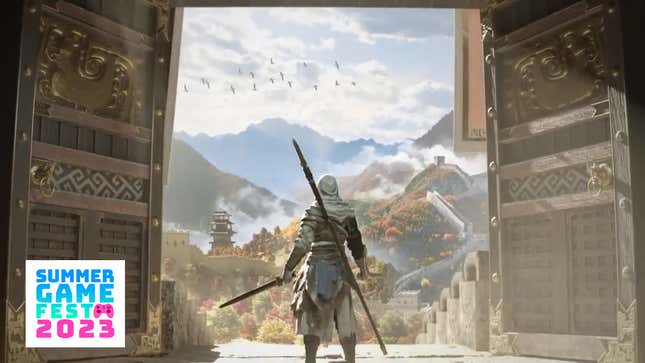 While Assassin's Creed Mirage is set to be a smaller, more focused return to form for the long-running stab-everything franchise, that doesn't mean the rest of the series is doing the same. And today's Ubisoft Forward event showed off a bit of what the series has in store for mobile and VR platforms.

The Week In Games: Gold Rings And Ragnarök
Today we got a look at what Assassin's Creed Codename Jade, first announced at last year's showcase, will look like via a short teaser trailer, as well as news of a VR title for Meta Quest headsets. During 2022's Ubisoft event, the publisher dedicated an enormous section of its show to giving Assassin's Creed fans a large, huge, very enormous taste of what's to come. That super dense sequence included a bunch of codenames, a look at Assassin's Creed Mirage, which is expected to release in October, and a Netflix-partnered mobile game.
Assassin's Creed has, for many years now, been a very expansive universe, featuring wild, unpredictable, and twisting narratives set over the centuries. It's gone through multiple countries and historical periods, so many that the game often just feels like a history sim...just, you know, with a bit of a sci-fi twist.

Read More: The Next Big Assassin's Creed Gets 7 Minutes Of Stabby Gameplay

While many might be more than a little skeptical of the upcoming mobile-only Assassin's Creed Jade project, which is set in ancient China and is the product of a partnership with Netflix, it promises to be on the scale of other AAA games, and at least from some of the gameplay seen today, it sure looks like it's trying to be.

But of course that's not all. Ubisoft has two other mainline Assassin's Creed games on the way, with the codenames Hexe and Red. Both of which were absent from today's show.

Red is expected to deliver on a much-desired trip to feudal Japan, aiming to capture super stealthy ninja moments. Unlike the upcoming Mirage, Ubisoft has described Red as having more in common with the larger worlds of Valhalla and such. Meanwhile, Hexe is expected to get all spooky with some witchcraft themes—and I am 100 percent here for that.
---
Kotaku is covering everything Summer Game Fest, from the main show on Thursday to other events happening throughout the next week. Whether you're into larger-than-life triple-A games or intimate, offbeat indies, you can keep up with all things SGF here.