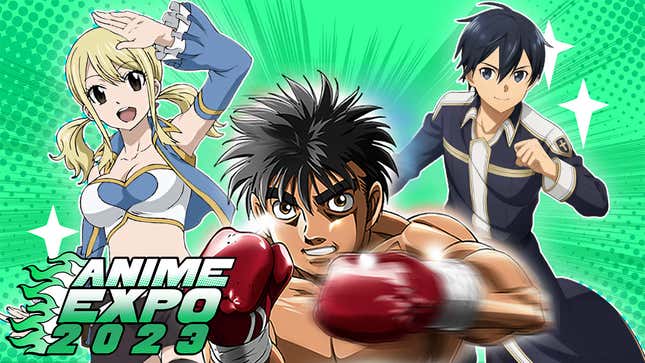 Much like how stand users in JoJo's Bizarre Adventure are drawn to one another, I found myself pulled into the orbit of a few popular Black anime content creators while traversing the convention floor of Anime Expo 2023, the self-described largest anime convention in the U.S. Specifically, I ran into anime influencers and content creators King Vader, Pierre Stepz, and Krystal Shanelle. After dapping each of them up and fanboying a respectable amount, I asked them to share a shortlist of anime they'd recommend to newbies and some they feel might be best for those with more seasoned, adult tastes.
The Anime Dream Team Behind Chainsaw Man
First up was King Vader, who wholeheartedly recommended that folks looking to dive into anime for the first time check out the boxing anime Hajime No Ippo, calling it a show that's "very straightforward, happy, and motivational."

Hajime No Ippo, animated by Madhouse, follows a mild-mannered novice boxer named Ippo Makunouchi as he learns the ropes of the competitive contact sport and rises in the ranks of the professional leagues. Should Ippo be right up your alley, other boxing anime of its ilk that you can check out are Ashita No Jo and its spiritual successor, Megalo Box. Each show features main event pay-per-view quality bouts with grounded characters and great soundtracks to boot.
"For not safe for work, I'd say Devilman Crybaby. 100%, do not watch that with your family. If you do, you might be a little bit insane," Vader told Kotaku. "Watch that by yourself or with trusted people. Enjoy the story and enjoy yourself."

Devilman Crybaby, which I included in my best anime on Netflix article, is a pretty dark show about a boy named Akira Fudo who, after absorbing the powers of the once-feared devil, Amon, battles against other fearsome demons as the hero Devilman. The show is as filled with pain and heartache and mature sexual content as Neon Genesis Evangelion and Berserk, so proceed with caution if you decide to check it out.

Read More: What We Loved About Devilman Crybaby

Pierre Stepz, a fellow anime YouTuber and comedian, says folks should check out the fantasy shonen series, Fairy Tail.

"Fairy Tail is literally about the power of friendship," Pierre said, and he ain't wrong.

Fairy Tail, much like other ensemble cast anime like Bleach and My Hero Academia, is a fantasy series about a guild of hunters with special powers who are tasked with completing odd jobs around the globe so they can pay rent. Sprinked between them tackling guild missions are a plethora of tournament arcs where rival guild members compete against each other to be crowned the best in the world. Personally, I enjoyed my time with the series, particularly for its heartwarming found family aspects which get showcased in both the anime series and the feature films.
"But for not safe for work, I would say High School DXD because it's really crazy," Pierre said. "I would say watch High School DXD behind closed doors but in open doors watch Fairy Tail."

Read More: 17 NSFW Anime And Manga To Check Out For The 'Plot'

Last, and certainly not least, is the number one Naruto anime fan and influencer, Krystal Shanelle, who had the most interesting anime suggestion for fans to watch and avoid for its mature themes. Krystal's recommendation for both safe-for-work and not-safe-for-work anime was the progenitor for the isekai anime apocalypse we currently find ourselves in: Sword Art Online, which starts out as totally approachable, "gateway" anime but starts skewing more mature in its later seasons.

"The first [anime] that popped into my head was Attack on Titan but then I thought Sword Art Online," Krystal said. "I know people don't really like Sword Art Online but the first season is really solid. I feel like it's a cool first season."
---
Kotaku is covering everything at Anime Expo 2023, including big announcements at panels and exclusive one-on-one interviews with the industry's biggest creators. Whether you're a seasoned anime fan or a newbie, you can keep up with all things Anime Expo 2023 here.