After two rounds at The Masters, the 44 best scores and ties, plus anyone within 10 strokes of the leader, make the cut. Since 2006, when the course was lengthened, no American amateur has survived to "Moving Day," the nickname for Saturday's round.
These Great Fortnite Creative Maps Show Us What's Possible

Yesterday, I did so. As a woman.
This past Sunday, I wrote about the fact EA Sports' Tiger Woods PGA Tour series has accommodated women golfers in traditionally all-male tournament fields for several years and, with the introduction of Augusta National Golf Club last year, at The Masters. An upgrade to Tiger Woods PGA Tour 13's career mode provides a very natural, very authentic way to see a woman in action at this storied tournament.
In this year's game, should your created golfer—male or female—win his or her national amateur championship, he or she will be invited to The Masters. Six amateur golfers are given automatic bids to the tournament in real life. None of their qualifying tournaments prohibit a woman from entering. (And, it should be noted, there is no proscription on women playing Augusta National. They do so all the time, as guests of members). The amateur invitation, new to this edition of the game, is a means for EA Sports and Augusta National to indulge every golfer's dream, regardless of gender, without stooping to tokenism.
G/O Media may get a commission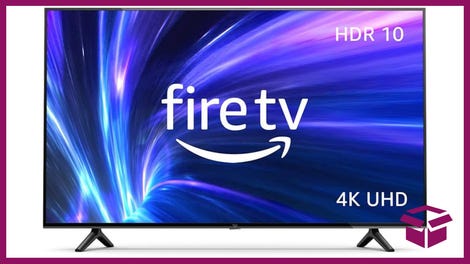 42% Off
Amazon Fire TV 50" 4K Smart TV
My golfer, "Jane Callaway," (named for the well-known maker of drivers—and, uh, my babysitter) won the U.S. Amateur championship. Amateurs at The Masters bunk up in "The Crow's Nest," an apartment underneath the cupola of the Augusta National Clubhouse. It's not featured in the game, specifically, but I began this journey thinking about her in that dorm, with four other guys, maybe playing cards and wondering just how the hell she'd manage her excitement and the attention in the first round on Thursday.
I've often written that sports video games are at their best when they present a rich context for you to fill in your own mental details, and the idea and the struggles of an amateur woman battling Augusta National's golf course is probably the richest canvas I've been given the opportunity to paint, primarily because of the difficulty Jane and I faced.
You are so, so underpowered in the early stages of your career in this series, regardless of your gender. And with a new swing mechanic in Tiger Woods PGA Tour 13, the learning curve is even steeper. Mistakes off the tee, hitches in complex draw or fade shots, and diminished putting accuracy are just facts of life at any difficulty level as an amateur in this game. The "focus" device, through which your shot's landing area could be artificially tightened, is gone. "Focus" now is what you have to do with your own damn hands on the sticks. This is one of the few sports video games that will not cater to your fantasy of winning it all on the rookie try.
Jane and I embarked on our first trip to The Masters with a single challenging but reasonable goal: Make the cut. The field is guaranteed 36 holes of golf. After that, it's basically halved. Playing 72 holes as an amateur is not necessarily a rarity but it is a distinction. Woods himself did it in 1995.
We had a headline-making start. After par on No. 1, with a great up-and-down save after going well right of the green, we birdied No. 2 with a swooping 33-foot putt from the center of the green, then birdied No. 3 to go two-under through three. Briefly, I harbored not the illusion this would be easy, but the dread of it. I wanted this to be authentically difficult. Last year I vowed never to ragequit or take a mulligan for any shot on any hole I ever played at Augusta National in this video game, practice or otherwise. What I shoot there is what I earn.
Jane and I had one goal: Make the cut. We then shot the best final round for an amateur ever.
Jane and I carded three double-bogeys to slip to 5-over after the first round. It was nightmarish. That evening I imagined Jane in bed at the Crow's Nest, praying in the night to make the cut. She changed into Cleveland Golf's sponsor outfit for the second round and shot even par, though squandering birdies on all the par-5 holes. In the game, you can examine the leaderboard and see the projected cut. Through 17 holes I was told it was 5-over. The game gave us an early tee time on Friday, which meant I had to sit through a one-minute simulation while the rest of the field finished. The cut came in at six over, the most expansive margin since the 2007 Masters (won by Zach Johnson at +1).
Jane made it.
Theoretically rolling with house money, Saturday concluded with us in dead last after another horrid 77, now 10 over for the tournament. This is where the role-playing comes in. The lowest round ever shot at The Masters is 63. We set 62 as her goal for a blaze-of-glory Sunday. Why not? Making up 15 strokes on the final day to win was impossible. So why not just step up and do something for history.
Boy, did we ever.
A 62 would get us back to even for the entire 72 holes of the tournament, and it was well in range after we birdied the first two holes and birdied No. 13—with a 20 foot putt—to come through Amen Corner at 6-under. You can hear the cheering in that video above. This year's game added in extra crowd dynamics for shot type, distance and round, and I wanted to believe that the volume distortion I heard came from a crowd that knew it was watching something truly special. The cheers for a woman doing this at Augusta National would be louder than any for the champion.
The real savior of the day, though, was an incredible 32-foot birdie for par on No. 7. It was a true momentum changer, preserving the goal and serving an inspiration at once. Jane birdied the next hole and I felt like she could actually pull this off. This would be as memorable a charge as any made by Woods, Palmer or Nicklaus in 1986. I imagined Verne Lundquist chiming in with "Yes, sir!" and then correcting himself.
We didn't make 62. After a bogey on 14 the round came in at 67. But it is the lowest final round ever for an amateur in The Masters, breaking a 65-year-old record, and just that, regardless of gender, would be a huge sports story. The idea of a woman doing that was utterly thrilling to me. Even though we ended up tied for 47th, there's no doubt who won over this tournament. Jane made par on No. 18 and the only thing I didn't get was the image of her hugging her family or the Silver Cup that the top amateur wins.
I don't think I will ever do anything that special, in a video game, ever again. That's really something to think about, when a video game gives you a virtual experience that is so memorable and fulfilling you know you'll never do anything like that again. Jane has moved on to the Nationwide Tour, the next stage of the career mode and as there is no restriction on her attributes, so powering up her drive is simply a matter of acquiring and applying experience points, the same as you would in any role-playing game. It's likely that, in her second professional season, Jane will be proficient enough to win The Masters.
But that serves an expectation of this video game, which costs $60. It is not fascinating, not nearly as much as what we just did. There will always be something extremely special to me about that final round, setting an impossible goal with no do-overs, and registering that kind of result with a woman.
I hope I live to see something like that. I may not. But just imagining it, in this video game, I have given a tremendous emotional investment that has already paid an appreciable dividend.