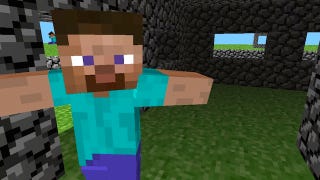 It hasn't been downloaded nearly as much, but the $80 million in revenues that Minecraft has delivered to Mojang compares well to the $100 million its Scandinavian neighbors Rovio have pulled in from Angry Birds. And that figure looks to get larger once the game arrives on Xbox Live Arcade in May.
The revenue figure comes since Minecraft launched in Oct. 2010, according to filings Mojang made in Sweden. Its earnings over that span amounted to $13.5 million.
That's according to a profile written up in the Financial Times, which also revealed Mojang has made roughly $1 million from licensing Minecraft to other products, like t-shirts, toys and other merchandise. Mojang's chief executive told the Financial Times they've turned down more offers than they've accepted.
"We've been approached by a number of high-profile Hollywood producers and asked to do TV shows," Mr Manneh says. "We may do that. It's hard when you don't have any experience and someone comes to throw these ideas around. We have so much to focus on with just the game development and growing the business. But if the right idea comes along and the right people that we'd want to work with, we'd say why not?"
Minecraft makers Mojang notch up $80m revenues [Financial Times]