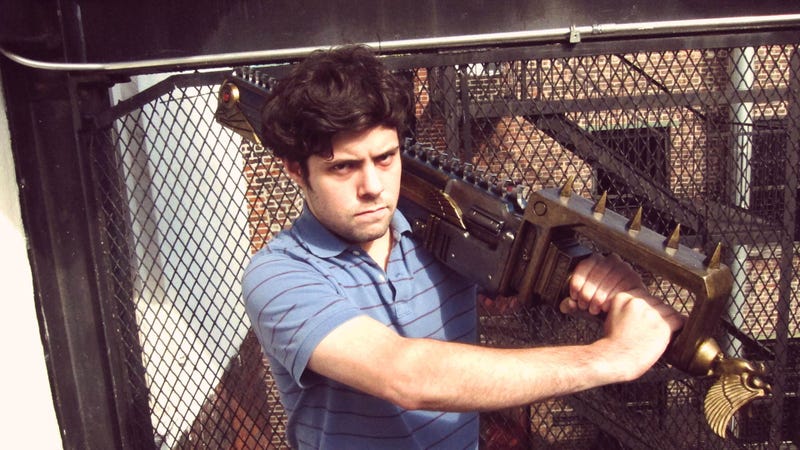 Chainsword - A life-sized Chainsword showed up from the Warhammer 40,000: Space Marine folks today.
The stealth of Metal Gear, from its top-down days, meets the path-drawing mechanics of Flight Control in Spy Mouse for iPhone and iPod touch. How well do stealth and touchscreen controls go together?More »
---
Computer games have long lived online, but nowadays video game consoles are joining them, becoming a form of entertainment that can be not just enjoyed online, but increasingly, purchased online. More »
---
Gears of War 3 comes out so soon we can almost see it. Yes on September 20 you'll get back to chainsawing through Locusts and friends alike. But also available at launch will be the Gears of War 3 season pass. More »
---
In today's installment of Speak Up on Kotaku, commenter Uncle Jesse wants to know if there's a special day that you set aside each week to partake in a little interactive entertainment, if you know what he means. More »
---
I've talked about how good Flying Wild Hog's cyberpunk shooter Hard Reset is. I've shown you how good it is. All that's left is for you to see for yourself when the game hits Steam on September 13. More »
---
One does not simply walk into Wal-Mart and spend $50 on a brand-new Zelda game. Not when there's a chance to spend $20 more for a gold-colored Wii Remote Plus! More »
---
Things have been very quiet on the Max Payne 3 front, so quiet some people thought it was dead. Don't worry, Rockstar says they're about to unleash an avalanche of news about the upcoming game over the next few months. To kick things off, they're showing us two new screen shots. More »
---
Formerly known as Hazard: The Journey of Life, Alexander Bruce's extraordinary game Antichamber will hereby known as Oh My God, My Favorite Game of PAX. More »
---
There are bullet holes on the dice, Marcus and Dom figurines on the board and up to four people around the table, playing co-operatively in Gears of War: More »
---
We like tips!
Got tips for our editors? Want to show the world your latest creation? Ready to anonymously share an unannounced game? Email us at tips@kotaku.com. Or leave us an anonymous voicemail at (612) 568-2581.
Want a different layout?
Click here for the Speak Up or Tips forums. Want a more "blog-like" look? Click the button up top next to "Top Stories."
Get more Kotaku!
Want even more Kotaku? Want to know which of your friends read us? "Like" us on Facebook and follow us on Twitter.