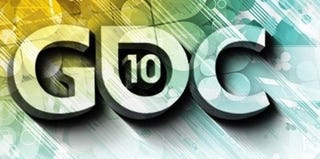 Game Developers Conference 2010 in San Francisco was a power plant of news this week, introducing us to the PlayStation Move. We still found time to review God of War III and report on Steam's arrival on the Mac.
By no means does this week exhaust our GDC reportage. We'll have much more on the conference when Messrs. Crecente, Totilo and McWhertor return. Until then, let's recap the week in Kotaku Original reporting.
Kotaku at Game Developers Conference 2010
Top Stories
First Deus Ex 3 "Screens"
First Look At PlayStation Move With Professional Models and Photoshop
PlayStation Move: Everything You Need To Know
First Look At The Delicious PlayStation Move
Modern Warfare 2 Promises Breakthrough Cure for 'Mapathy'
Salute Your New King Of Kong
News
Rumor: Why Call of Duty Developers Are Sticking Around
Five Westerns You Must See Before Dying ...
First Look At Last Story Art
Medal of Honor Is Coming Back The Hard Way
Waterloo Wasn't Quite Total War, But It Was Awesome
What Does Japan Really Think About Game Consoles?
Mac vs PC: How Apple Got Back In The Game
Real Soldiers Recreate Modern Warfare 2 Box Art
Wii Gun Involved In 3-Year-Old Shooting Is Amazingly Lifelike
Dwindling Tokyo Game Show Hopes To Be World's Biggest Game Gathering
Curt Schilling's All-Star Role-Playing Game Has A Publisher And A Mystery Title
New Game Riffs On Guitar Hero, With A Real Electric Guitar
How to Try Out for Final Fantasy XIV Beta
Vintage Playboy Magazines Mirror Mafia II Characters
Sports
Olympic Hockey Hero is NHL 2K11's Cover Man
Tiger Woods to Share Cover of Tiger Woods Game
Columns
Lisa Foiles: I Was An Xbox Live Celebrity, For One Night Only
Well Played: The Never-Ending Game: World of Warcraft's Impact on Borderlands
Stick Jockey: Tinker to Chance: Game Makers Rethinking an Orthodoxy?
Reviews, Previews, Hands-On and Impressions
Napoleon: Total War Review: Ability Is Nothing Without Opportunity
Frankenreview: God Of War III
Transformers: G1 Awakening Review: One Shall Stand
Splinter Cell: Conviction Preview: Either Sam Fisher Mellowed With Age Or I Have
God of War III Review: Olympic Glory
MLB 10 The Show Review: The Game for All America
Major League Baseball 2K10 Review: Pitching With Two Strikes
Numbers/Updates
BioShock 2 is Entitled to February's Top Spot for U.S. Sales
Xbox 360 Notches Rare Triumph Over Wii in February
The Nintendo Download: Nintendo's Got Your Final Fantasy Right Here
iPhone Chart Toppers: Monopoly.... Hits the Top?
The 10 Most Avidly-Played Wii Games In America (As Of March 1)
Activision, Explained
Movies
Can Hurt Locker Inspire A New Generation Of "War" Games?
Oscar Winning Film Features Xbox 360 Time Travel
Japan
More No More Heroes Sexy Time!
Pretty Girls, Telling Time For Yakuza 4
Proposed Virtual Child Porn Law Trucking Along
Nostalgia
My Trash-80 Powered Gaming Roots
Kotaku 'Shop Contest
Kotaku 'Shop Contest: Hard Times Edition
Kotaku 'Shop Contest: Next-Gen Cereal System Edition Winners