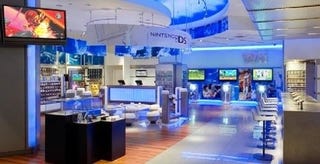 Friendly reminder to those in the vicinity of New York City - Nintendo's World Store is throwing a launch party beginning in a couple hours (3 p.m. US Eastern time) for New Super Mario Bros. Wii.
The shindig is more than just a line-up for an early purchase. Nintendo says it'll deck out the store with gaming stations, costumed characters, and a Super Mario Bros. museum showcasing Mario's history over more than a quarter century. Live gaming tournaments, trivia and prize giveaways also are promised.
And there's the matter of being able to buy and play the game well in advance of its launch tomorrow. The event will run from 3 to 7 p.m. and the store is located at 10 Rockefeller Plaza (48th St between 6th and 5th Aves.) in Manhattan.
So all youse in the Tri-State Area, think about subway-ing, PATHing, or Metro Northing over there to get your red box. And if anyone else knows of launch events elsewhere in the country, feel free to share their places and times in the comments.