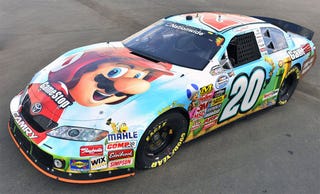 If our glowing review for Nintendo's New Super Mario Bros. doesn't convince you to buy a Wii, perhaps seeing Mario, Luigi and his Toad followers on a NASCAR chassis will!
Nintendo and GameStop are co-sponsoring driver Denny Hamlin for this weekend's Able Body Labor 200 at Phoenix International Raceway, forcing him to drive a New Super Mario Bros. Wii car in an oval Saturday, Nov. 14. Hey, that's the day before the game ships!!
You know, this whole NASCAR thing would be made a little more interesting if sanctioned used of banana peels and turtle shells was added. Just saying, NASCAR.