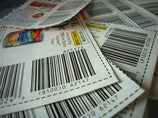 We're back again with another round-up of price-cuts and sales events for the frugal amongst you. As stated earlier, this is the week The Orange Box can be had for the stupid-low price of $9.99.
The guiding principle here at Weekend Coupons is we tell you about deals on stuff you might actually want to buy. Remember that every weekend, every major retailer cuts the cost of certain titles that just won't move. Well, there's a reason for their immobility. So we don't care about them here. But you can get Wii Music for $30 if you really want it.
Time now for the show:
• GameStop's trying to clear used stock, so promo code BUY2GET1, stacked with SAVER (for free shipping) gets you three used games for the price of 2. Free game's gotta be cheaper than the other two of course. This lasts through tomorrow. [via Cheap Ass Gamer]
• Target's trying to move its 80GB PlayStation 3s and is appealing to launch-era nostalgia to do it. Plunk down full ($399) price and you get MotorStorm and Resistance: Fall of Man with it. You also get two free DVDs, but from the circular, your options are Hancock, Step Brothers, Casino Royale, and Resident Evil: Extinction.
• It's still a crime that you have to pay for this capability, but if you want the Wi-Fi adapter for your Xbox 360, it's available through Buy.com for $75.75, free shipping. That's a 25 percent savings. I know, I know, most folks keep their console close to their router already, but some, like me, have it elsewhere in the house. [via Cheap College Gamers]
• Walmart is still offering a two-guitar wireless bundle of Guitar Hero: World Tour, with a $25 gift card, for $69. It's good for both PS3 and 360. That, friends, is a pretty damn good deal. [via CAG]
• Broke your PS3 controller? Need another? Amazon knocked $17 off the DualShock. If you have Amazon Prime, it's free shipping. [via CCG]
• Newegg also is running a sale on 13-month Xbox Live cards, get one for $38.99 no shipping. They're usually $50. [via CCG]
Also, just to remind you - you can get a new-in-the-box Dreamcast for $99 through ThinkGeek.
As always, smart gamers can find values any day of the week, so if you've run across a deal, share it with us in the comments.