*Checks calendar* oh boy it's that time of year already, when artists from around the world dream up fake Nintendo games then print them out on cartridges for us to look at them and think, oh hell yeah, why wasn't there a No Man's Sky for the Famicom?

The cart designs are part of an exhibition called Famicase, put on by Japanese games store Meteor, and while you can visit and see them in person, that's not going to be an option for most of you, so we'll have to make do admiring them from afar.
You can see all 250 entries here, but I've included a selection of some of the better ones below. Some let the packaging speak for itself, while others include a short description of how the game would play. If it actually existed.
Note that one of the entries, BURABARE—a homage to obscure doujin erotic games made in the 90s—is by Kotaku reader and comics artist Vittorio Giorgi!
G/O Media may get a commission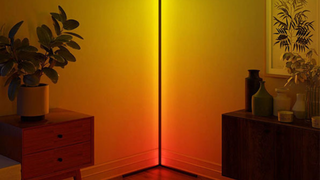 Save 60%
Minimalist LED Corner Floor Lamp
You can see some examples of previous year's entries here.
UPDATE: Wow, Andrew Elmore (Beyond the Sky) even went and made a 10-track score for the game, which you can listen to here!
UPDATE 2: Here's a soundtrack for WAV as well!