The Football Manager series has a well-deserved reputation for knowing a lot about the sport it covers, to the point where its vast network of scouts are as respected as those working for actual professional clubs. But boy, even by those standards, Football Manager 2007 was on some crystal ball shit.

Hessenuk and EisernerVorhang had the idea to go back a decade, consult the game's database and see what has become of the young players that Sports Interactive thought had the most promise in Football Manager 2007 (which was actually released in 2006). In a sport where tens of thousands of players crash against the rocks every season, and promising young talent can disappear as quickly as it arrives on people's radars, the odds are on many of these names belonging to players who at best carved out decent careers, and at worst quickly faded into public insignificance.
Yet a disproportionate number of players on FM2007's list went from young hotshots to bonafide superstars.

If you look at this list of the best-rated young players, there are guys like Luka Modrić, who in 2006 was a scrappy youth working his way into the Dinamo Zagreb first team in Croatia. In 2017 he's one of the stars of the Real Madrid side that just defended its Champions League title. Joining him on that FM2007 list, as well as the 2017 Real Madrid side, is the club's captain and red card specialist Sergio Ramos.
Then there's Alexis Sanchez, who when FM2007 was released was 18 years old playing for Colo-Colo in the Chilean league. The Arsenal striker has since helped power Chile to both the 2015 and 2016 Copa América.
G/O Media may get a commission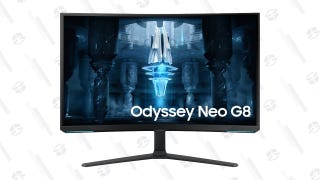 Samsung 32" Odyssey Neo G8 Curved Gaming Monitor
Meanwhile this list of the players given the best potential future rating is full of 2017 superstars as well. While it cheats slightly, since in 2006 guys like Theo Walcott and Cesc Fabregas were already household names, it also sees a bright future for players yet to establish themselves, like Man City legend Sergio Aguero, Colombian striker Radamel Falcao, Juventus' Gonzalo Higuaín, Shakira Husband Gerard Piqué and Germany's Nicest Man Lukas Podolski.

And sure, while there are a couple of busts, even those not considered bonafide megastars still went on to have solid and successful careers, including Mexico's Andrés Guardado (over 100 national team caps), former Barcelona and Spurs man Giovani dos Santos and Newcastle's favourite son Hatem Ben Arfa.
I look forward to revisiting this feature next year, when it covers FM2008 and we can all find out what happened to plucky young upstarts like Lionel Messi and Cristiano Ronaldo.