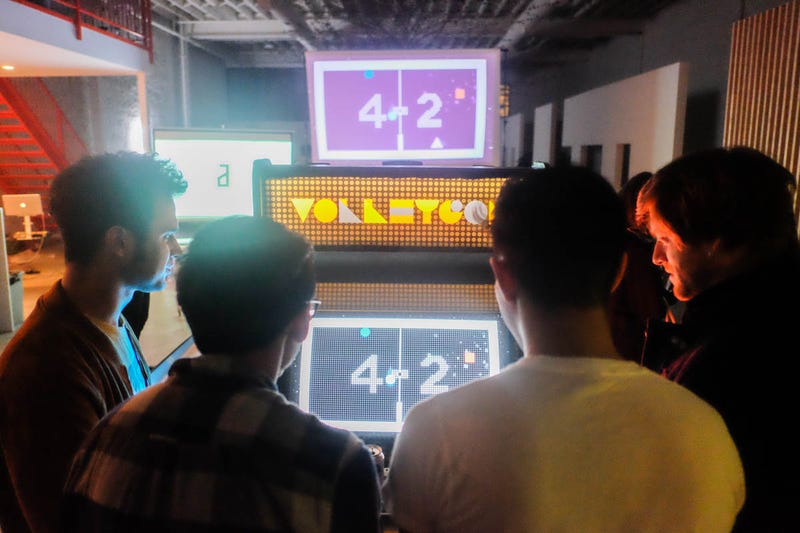 Imagine Pong but with weird, ever changing physics and colorful shapes that can move freely through the space rather than being tied to either edge of the screen. On the surface, that's what VOLLEYGON is.

There's a lot more going on with the game beyond that simple conceit, however. Nick Santaniello, the game's creator, says his main inspiration was a genre of Flash games he loosely calls "Slimeball," and one game in particular called Slime Volleyball. "It was sort of a proto-physics game in which two half-circles try to headbutt a ball over a net toward each other with the curvature of the circle determining the angle of the shot," he said.
Browsing the Internet to kill some time and procrastinate, Santaniello searched in vain for a contemporary version of the game but couldn't find any good ones. That's when he decided to make VOLLEYGON, a minimalist take on volleyball emphasizing teamwork and an "anti-gravity component" that gives players a way to set the ball and spike it.

Throughout development, Santaniello says the only thing that's really changed is a "two bounces rule" that he added later on. Trying to stay faithful to the volleyball metaphor proved to punishing, with players scoring too easily. That's when a coworker of his suggested making the game like tennis and requiring more than one bounce before scoring.

"At first I thought that mixing references to volleyball and tennis would be too confusing, but ultimately, we're creating a new game here, so why feel bound to the rules of volleyball or tennis?" Santaniello said. In the end though, that little tweak helped make VOLLEYGON what it is today. "The change ended up making the game so much more accessible, gave it more of a flow by giving players the opportunity to create longer rallies, and even created a nice tension by introducing scenarios in which the ball has already bounced once and the player knows they have to return the ball without letting it drop again."
But this only half of the story behind VOLLEYGON. The game isn't available to download on Steam or Itch.io: it's an arcade cabinet. Santaniello is part of the Death by Audio Arcade collective, a group of artists, programmers, and designers trying to rehabilitate a medium that was displaced by cheap computers and video game consoles.

"I see VOLLEYGON, and most of the games produced by Death by Audio Arcade, as a hybrid of a console couch multiplayer game and a traditional versus arcade game like Street Fighter II," he said. "I remember being 10 years old and traveling not just to arcades but to places like my local laundromat or the neighborhood 7-11 just for an opportunity to play the game, which I couldn't get at home yet, or to challenge local competitors."