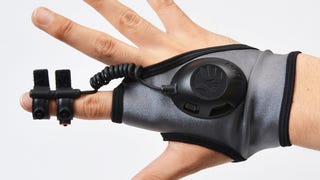 Japanese peripheral maker Thanko is releasing a wireless gesture controlled mouse that you can strap to your hand and, along with Thanko's Android-enabled TV converters, allow you to sit on you sofa and flick your finger around.
What's the single greatest achievement of the current generation of video game consoles? While some might say motion control or the rise of online multiplayer, in today's Speak Up on Kotaku commenter Aikage is just happy to keep his hands under the covers.
Datel's completely unauthorized TurboFire2 wireless Xbox 360 controller not only directly connects to the Xbox 360 without a dongle, you can connect it to your PC to apply "custom controller enhancements." Microsoft should sue! Oh wait.
GameStop is taking preorders for the Xbox 360 Wireless N adapter, whose existence was recently confirmed, but for which no launch date was given. It ships Nov. 3, says GameStop.
The 802.11n adapter whose development Microsoft recently confirmed will cost you one benjamin. The existing 802.11g adapter will get a haircut and cost $79.99. That's according to Ars Technica's trusty, and unnamed, "Mole."
An FCC listing last week showed it had reviewed an official 802.11n wireless adapter Microsoft's developing for the 360. A flier in an Italian Gears of War 2 pointed to the same thing. The company has formally confirmed its existence.
Over in Japan, Nintendo is busy testing new functionality for the Nintendo DS that will allow users to download information of McDonald's food and sales campaigns at any one of twenty-one restaurants located around Tokyo. Now through June 28th, owners of the prevalent portable will be able to log in to WiFi via the…