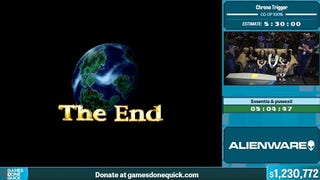 The weeklong speedrun event Summer Games Done Quick has come to an end, inspiring the games community to give a whole lot of their money to Doctors Without Borders.
It's the last day of Summer Games Done Quick, the weeklong pile of awesome video game speedruns to benefit Doctors Without Borders, which makes it your last chance to watch talented players break your favorite games.
On the left we have aspiring voice actor Patrick "Patty" Cullens, aka PCULL, whose mother may or may not have been murdered by a windmill. On the right is MrWeables, who possibly lives in a rustic castle with Will Ferrell. They're playing a game you've probably never heard of, and they're hilarious.
Reminder: charity speedrun marathon Summer Games Done Quick is full of people doing and showing amazing video game things. Right now, they're playing 1993 Data East oddity Ninja Baseball Bat Man, a game where heroes have to "recover various artifacts stolen from the Baseball Hall of Fame, a task prescribed to them by…
As foretold by prophecy, the weeklong Summer Games Done Quick charity speedrun marathon launches today, and you can watch all seven days of speed gaming for a good cause right here.
Summer Games Done Quick—an annual speedrunning marathon for charity—starts on June 22 this year. You can see the full schedule here, and we'll keep you guys updated on the marathon closer to then, too.