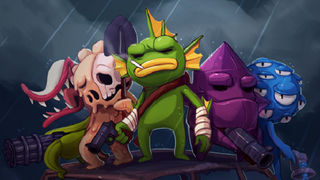 Okay, I'm probably not gonna make it to the Nuclear Throne today. But I sure as heck can try!
We've all heard the story many times now: talented game developers leave their corporate jobs to strike out on their own, turning to Kickstarter in the process. So what makes The Flame in the Flood stand out? Something about BioShock's art director making a modern fancified version of The Oregon Trail, if you ask me.
Vlambeer's Rami Ismail accidentally inspired a Nuclear Throne challenge, to beat the current version of the game using only the pistol. 10 hours after it was officially proposed, Wizard_Amul did it.
Exploded ships and frustration galore, now on the go—but only on iPad. If you've only got an iPhone, you're out of luck. You'll have to stick with the PC version.
Triple Town developer Spry Fox has surprised and delighted me at every turn, from their clone-attracking mobile masterpiece to browser-based strategy game Highgrounds to the completely charming co-op of Leap Day. So when the developers tell us they are crafting a moving, personal tale of love and loss within a …
Atlus' upcoming Wii RPG Shiren the Wanderer has all the trappings of a roguelike dungeon crawler, but Atlus notes key differences that set it apart from other roguelike games. For instance, it's much easier.
For me, roguelike games are an absolute must have on any self-respecting games platform, and you don't get much more roguelike than, well, Rogue.
Tales of Game, the team behind Charles Barkley Shut Up and Jam: Gaiden have released their latest freeware roguelike The Sewer Goblet: The Wu-Tang Clan and the Wu-Tang Baby, a dungeon crawling adventure starring GZA, RZA, the late Ol' Dirty Bastard, Raekwon and the rest of the Wu-Tang crew. And for maximum appeal,…