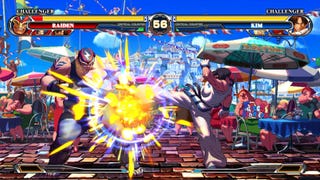 Japan's big arcade gaming expo, AOU, went down last Friday & Saturday. Lots of cool stuff was shown off, but few games - if any - look as damn good as King of Fighters XII.
.html?type=mov
Heed the warning. Don't stand and watch. If you're standing, it's further for your jaw to fall before it hits the ground. More chance of seriously hurting yourself.
You'd have thought this news was to be simply expected, not highlighted, but in these days of not-getting-SFIV-cabinets, you can't take anything for granted: Ignition Entertainment have today announced that they'll be publishing console versions of SNK's King of Fighters XII in the US and Europe. And that's about all…
And this one's not some shaky cam one, either. It's a proper one. A long, proper one, that shows off better than any before the hundreds of frames of animation that have been poured into each character.