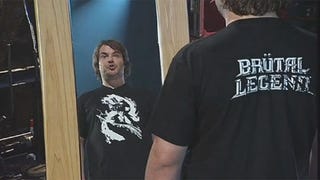 A bit late to the party, this latest installment of Brutal Legends' Brutal Thoughts with Jack Black videos suggests you will excel at multiplayer by being the first to buy the game. Oh, and your mother is not a whore.
Rarely have we seen a promotional force as ripped as Jack Black... as Brutal Legend's Eddie Riggs. Black took his otherworldly game pimping powers to Jimmy Kimmel's late night talk show yesterday, showing the set's furniture who's the boss.
Jack Black's hosting Spike's 2008 "Video Game Awards" (their quotes, not mine). Here are a couple promos goofing on mo-cap. Being clever works. Poop jokes always work. And ping-pong peepees = can't-miss crowd pleaser.
It's been awhile since we've heard anything about Tim Schafer's Brütal Legend, which stars Jack Black as a heavy metal roadie who bleeds into his cursed belt buckle and is transported to Nordic Heavy Metal land. Lucky for us, MTV Multiplayer has the scoop directly from Black himself, who attended the recent MTV Music…