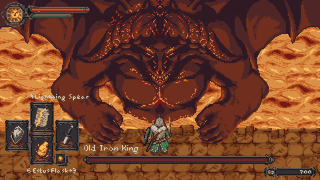 The Old Iron King from Dark Souls II is ready to unleash his flame breath attack in Ztagger's de-make art. It looks like a boss fight on the SNES or on the Game Boy Advance, so that flame breath wouldn't be larger than a few pixels.
Almost three years ago, Ed Fries—a Microsoft executive instrumental in acquiring Bungie and making Halo the definitive Xbox series—created Halo 2600, a flash game demake that imagined the game on an old Atari VCS. Now, AtariAge.com is putting the game's ROM on a proper cartridge, with period box and label art and an…
Continuing today's theme of "Superhuman Efforts that Deserve a Standing Ovation," we now turn our attention to The Legend of Zelda. MaJoRa, a member of the Zelda Fan Game Central community, has rendered all of the overworld from Ocarina of Time in the 2D style of A Link to the Past.
Team Fortress 2 demake, Team Fortress Arcade, which we showed in the past, is released today, free of charge. Game designer Eric Ruth is the creator, so credit him for this good work! Visit Piki Geek for the download.
I'll confess to knowing jack shit about Twin Peaks, David Lynch's cult hilt surreal television mystery that lasted for a year but you'd think had a run twice as long as All in the Family the way people still talk about it. Anyway, someone has created an Atari 2600-style game based on the show, you can grab it for Mac…
Bethesda beats any potential fan-made Fallout 3demakes to the punch by creating its own for the Japanese Fallout website. It's all in Japanese, but old school role-playing is the universal language.
I have no information that anyone is actually building this for PC, but it's amusing to consider. By YouTube user AnttiApinaPro, seen by reader Morris.
Bayonetta as a shmup; Dead Space on the Game Boy; and Brutal Legend as, what else, a graphical adventure. There isn't a single miss among this gallery of de-makes done over the past couple of years by Swedish artist Junkboy.