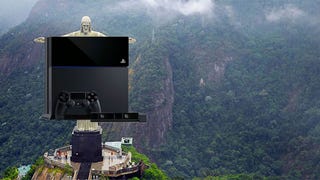 And we thought Argentina had it bad. In Brazil, the land of high video game import taxes, PlayStation fans will have to shell out 3,999 Brazilian Real for Sony's next console come November 29. That's roughly $1,850 USD. Ouch.
How much would you pay for classic characters like Sabrewulf, Glacius and the newly-announced Thunder in the upcoming free-to-download Xbox One exclusive Killer Instinct? Microsoft has slapped a $4.99 price tag on each character's head, but why buy piecemeal when you can get the whole shebang for $20?
Since 2005, Namco Bandai's rhythm-tastic Idolmaster (Idolm@ster) series has been charming Japanese fans (and import gamers) at home and in arcades with its adorable anime style and J-pop music. Today, for the first time ever, there's Idolmaster available on the iPhone and iPad for the U.S., France, South Korea and…
Tired of being picked on and looked down upon for being a Nintendo-exclusive console owner, commenter ClaudioIphigenia speaks up on Kotaku about the rather reasonable reasoning behind his brand loyalty.
While at least two of us at Kotaku enjoy Skylanders: Spyro's Adventure enough to recommend a purchase, that doesn't mean we're oblivious to the costly downsides to a game that sells its downloadable content on toy store shelves.
In this Friday edition of Speak-Up on Kotaku, commenter YamiKarasu wonders if the standard $50 - $60 price for today's video games is hurting the industry. Well is it?
In today's exciting episode of Speak-Up on Kotaku, commenter Cupids_Hitman waits and waits for prices on first-party Nintendo games to drop, but they never do.