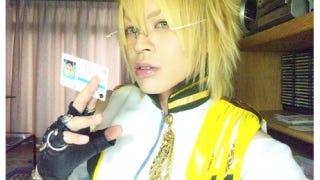 Good news if you are a cosplayer! And if you have a car. And if you need to renew your Japanese driver's license.
You can legally pose for your license while cosplaying. Granted, this isn't a mainstream trend by any means, but owning a "cosplay driver's license" is certainly possible in Japan, where they're also colloquially called "itai driver's license" (痛い免許証 or "itai menkyoshou"). In short, they're a regular license, but with the driver wearing a costume.
According to manga artist Pikupikun, who recently posed for his own cosplay license, hats aren't allowed. Website Otakuma reports that unnaturally bright wigs also are also apparently not allowed.