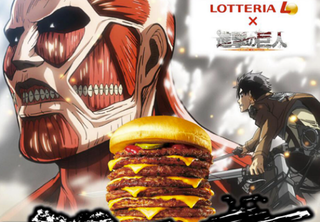 Mmm...Meat! Next month, popular anime Attack on Titan will be hawking burgers stacked with meat in Japan. And yes, they're made with beef, not humans!
Starting March 6, fast food chain Lotteria is launching special Attack on Titan meal deals: For 2,000 yen (US$20), you get one cheese burger tower plus an Attack on Titan themed keychain and a specially designed redeemable burger ticket.
You can choose between a five patty cheese burger tower, a seven patty one, and a ten patty cheese burger tower. The price is the same!
And that's a rather expensive prince. Since not cleaning one's plate is frowned upon in Japan, Lotteria looks to clean up on customers reluctant to order the enormous ten patty tower.
There is also a fry meal that goes on sale March 20. It comes with other Attack on Titan pin badges and specially designed redeemable coupons.
Last spring, Lotteria also used anime to sell its burger towers—namely, Evangelion: 3.33 You Can (Not) Redo.