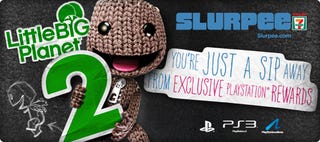 Like LittleBigPlanet™ 2, Killzone™3, and/or Slurpee® drinks? It's your lucky day. Head to 7-Eleven®, grab one of four limited edition Sackboy™ or Helghast Slurpee® cups and redeem Slurpee Nation™ rewards points for exclusive PlayStation®3 stuff!
Just grab a cup, enter the code on Slurpee.com, count your points, and get ready to cash in on cool exclusive content including:
Digital LittleBigPlanet™2 Slurpee® Sticker Pack
Virtual Slurpee Machine for your PlayStation®Home apartment
LittleBigPlanet™2 Strategy Guide
Killzone™3 Map Pack
Killzone™3 Helghast and ISA Costumes for PlayStation®Home
And more!
So, get sipping and click here to check out all the rewards!