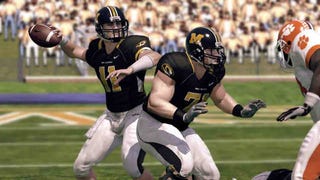 Tigers vs. Tigers. EA Sports told us the third matchup for the multi-team demo of NCAA 11 wasn't going to be traditional and they're right. Clemson and Missouri have played just four times.
But hey, I suppose after Friday, once Nebraska pulls out of the tottering Jenga tower that is the Big XII, who knows what kind of weird pairings we'll be seeing in a remade college football landscape. Although this might be Missouri of the Bigger 10 against Clempson of the Southeast Atlantic Conference, with everyone else suiting up in the Big Pacific Mess.
NCAA Football has long had the ability to remake conferences in the game's dynasty mode, but you have to sub out teams; there's no expansion. Depending on how any conference changes are implemented this could be the last video game under the traditional conference alignments.
Anyway, here are four screens of hot Tiger-on-Tiger action from Mizzou's Faurot Field. Look, I think I see Big XII commissioner Dan Beebe selling corndogs in the south end zone. Good to see he landed on his feet.