When shopping for a new laptop it's important to know beforehand how you plan to use it.
Whether you want a multimedia or gaming powerhouse that will only move from your desk occasionally, or something that hits the sweet spot between performance and portability, there are plenty of good options if you know what to look for.
TechSpot's Laptop Guide
To help ease the hassle of going through countless product pages and bookmarking the ones you like, the TechSpot Laptop Buying Guide consists of a regularly updated list of our favorite notebooks in each of six categories: Thin and light, business or general purpose, desktop replacements, gaming, value/budget offerings, and netbooks.
G/O Media may get a commission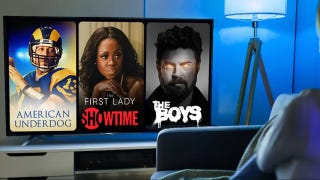 UNDER $1
99¢ Prime Video Channels
Here are our highlights for this quarter, we've included a quick description under each laptop to offer some advice on what you should be looking for and what makes it special. That said, if we've overlooked your favorite system feel free to share it in the comments.
Gaming
Serious gamers will always lean more toward desktop computers for their flexibility when it comes to upgrading and the sheer power of their components. If being mobile is a priority, however, there are some solid choices in this category. Intel's Core i7 processors are recommended for gaming, as well as a top-of-the-line discrete graphics card from ATI or Nvidia, 4GB to 8GB of RAM, and up to a terabyte worth of storage capacity.
Similar to desktop replacements, most gaming laptops are large, heavy and usually lack in battery life. There are a number of specialized brands and boutique shops that will let you customize their products with all the latest components and even tailor their looks to your taste — but they'll also charge a nice premium for it.
Sager NP7280 (Built on the Clevo X7200)

If you don't mind stretching your budget to well over $2,000 for a few extra perks and top quality personalized service, there are a number of boutique PC shops waiting to take your order. Over at XoticPC, for a hefty $2,800 we were able to configure a 17-inch gaming beast with not one, but two of Nvidia's GeForce GTX 460M in SLI mode plus a desktop-class Intel Core i7 950 CPU running at 3.06GHz.
Our configuration also included a speedy 160GB Intel X25-M SSD, a pair of 320GB hard drives for storage, 6GB DDR3 1066MHz memory, and a 3.0-megapixel webcam. You also get plenty of connectivity, including SuperSpeed USB 3.0, and while you're no doubt paying a premium, this includes a 3-year labor, 1-year parts warranty and lifetime 24/7 phone support. That's just scratching the surface of what you can put into this system. Design-wise the NP7280 is rather bulky, but that's to be expected with these types of machines. Bottom line is, if you can afford it, the NP7280 is the ultimate mobile rig for demanding enthusiasts and extreme gamers.
Quick specs
Starting price: $2,109 ($2,810 as configured)
Processor: Intel Core i7 950 3.06GHz
Graphics: 2x Nvidia GeForce GTX 460M 1.5GB (3GB total)
Memory: 6GB DDR3-1333 (3 DIMMs)
Storage: 160GB SSD, 2x 320GB 7,200RPM HDD
Display size: 17.3" (1920x1080)
Optical: DVD burner
Weight: 12.5 lbs (12-cell)
Battery: 12-cell (~2.5 hours)
Asus G73JW-A1

The G73JW-A1 is nearly identical to the G73Jh-A2 stealth fighter-inspired gaming notebook featured in our last guide, but this time around Asus has included a faster Intel Core i7 740QM processor, a more powerful Nvidia GTX 460M graphics chip, and a USB 3.0 port for good measure. The updated version also sports a Blu-ray reader and DVD-burner combo drive to enjoy newer high-definition movies, though it's still missing an eSATA port.
Pricing for this model starts a little higher at around $1,700, and you'll get the same 8GB of DDR3 memory, a beautiful 17.3-inch display with full HD 1920x1080 resolution, and a whopping terabyte of storage. Also, bundled with the G73Jw is 3DTV Play from Nvidia, which projects the high definition graphics of this notebook onto any compatible 3DTV via HDMI 1.4. This includes 3D video, games and photos. If you're after a powerful mobile gaming solution this one should definitely be near the top of your list.
Quick specs
Starting price: $1,700
Processor: Intel Core i7 740QM 1.73GHz (quad-core)
Graphics: Nvidia GeForce GTX 460M 1.5GB
Memory: 8GB DDR3-1333
Storage: 2x 500GB 7,200RPM HDD
Display size: 17.3" (1920×1080)
Optical: Blu-ray / DVD-RW combo
Weight: 8.5 lbs (8-cell)
Battery: 8-cell (~2 hours)
Alienware M11x R2

Usually when you think of gaming laptops, an 11-inch screen is not the first thing that comes to mind. But there's certainly value in having a gaming-capable machine that you can easily take on the go, particularly for frequent travelers or LAN party-goers. The Alienware M11x R2 combines the same 'Stealth Black' looks of its bigger brothers, the 15-inch M15x and 17-inch M17x, with a soft rubbery matte finish. Most importantly, it offers an overclockable Core i5 or i7 low-voltage processor, and Nvidia GeForce GT 335M graphics with Optimus technology.
Given its size constraints and somewhat modest price tag (for its intended market, anyway) you can't expect the M11x R2 to outperform a full-fledged gaming machine like the Asus G73JW-A1 or Sager NP7280. But you can still attain playable frame rates in most current games using medium and in some cases high graphics settings. The panel's 1366x768 resolution is disappointing, but gaming at 1600x900 would tax the GT 335M even further and it's only an 11-inch machine after all. Connectivity-wise, the M11x R2 lacks a VGA-out port, USB 3.0 and eSATA, but gets HDMI and DisplayPort, as well as three USB 2.0 ports, FireWire, a 3-in-1 media card slot and Ethernet. As you can see this Alienware gaming laptop isn't without its limitations, but if you're looking for something small to game while on the road, it's one of the most compelling options available.
Quick specs
Starting price: $799 ($1,244 with specs listed below)
Processor: Intel Core i7 640UM 1.2GHz
Graphics: Nvidia GeForce GT 335M 1GB
Memory: 4GB DDR3-800 (2 DIMMs)
Storage: 320GB 7,200RPM HDD
Display size: 11.6" (1366×768)
Optical: none
Weight: 4.4 lbs (8-cell)
Battery: 8-cell (~6 hours)
---

Thin and light notebooks serve as a bridge between netbooks and full-fledged laptops, offering a smooth blend of performance, portability and battery life.
---

Business notebooks offer a combination of mid to high end components with an emphasis on durability, data security and battery life. Desktop Replacements
---

With the most complete set of features and performance, desktop replacements often forgo battery life and portability for extra horsepower.
---

Laptops in this category are usually hot sellers in the back to school season as they offer a good balance of price, features and portability. Netbooks
---

Netbooks are perfect as travel companions or secondary systems. Most of them feature 10- to 12-inch screens and an almost identical combination of hardware under the hood.
Republished with permission from TechSpot.com, a computer technology publication serving PC enthusiasts, gamers and IT pros since 1998.