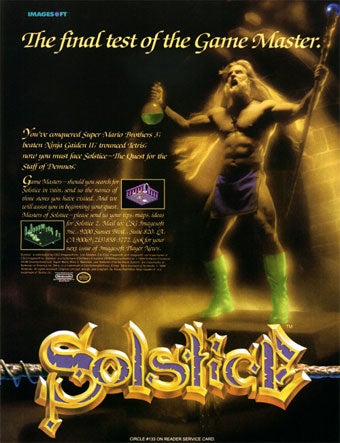 Every year, Vintage Computing & Gaming's Benj Edwards compiles a list of the best video game inspired Halloween costume ideas that you've probably not yet considered. This year's may be his best (or at least most obscure) yet.
There's some real gold here, including the pictured option, Shadax from Solstice, whose "luminous footwear can brighten the foggiest, darkest nights" according to VC&G. All that's required are neon green pimp boots, a purple loincloth, an extra six months on the Ab-roller and to follow Edwards' suggested in-game behavior: "Stand and scream, 'THIS…IS…SOLSTICE!' If someone snickers, knock them down a well."
Plenty of Halloween inspired gaming brilliance awaits you, with handy linkage to previous year's suggestions, all of them made of win.
VC&G's Halloween Video Game Costume Ideas (2009) [Vintage Computing & Gaming]